Portugal - Wine Map of Portugal
[Do Not Use]DK Publishing
2/07/2014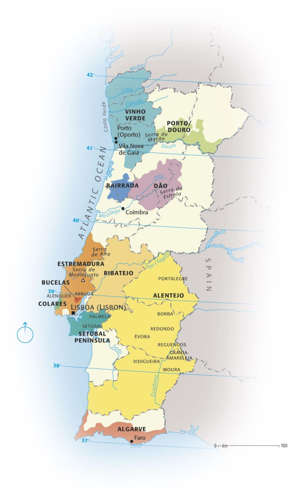 Vineyards and the village of Lapela in Vinho Verde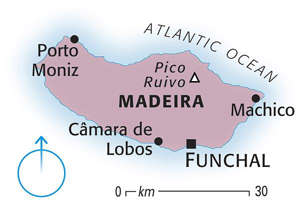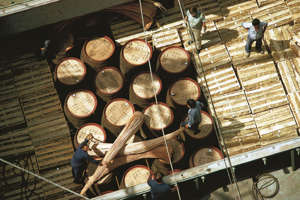 Painted tiles depicting workers gathering grapes in the vineyard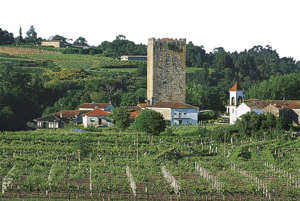 Casks of wine being loaded onto a ship at Funchal port in Madeira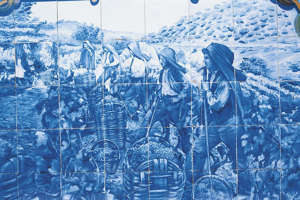 Wine Map of Portugal

With the exception of the very highest mountain peaks, wine regions virtually cover Portugal. The country is just 125 miles (200 km) east to west at its widest, and 370 miles (600 km) north to south. It also includes the winegrowing island of Madeira, 600 miles (1,000 km) southwest of the mainland. There are 24 DOCs, 5 IPRs, and 8 vinhos regionais. Porto, where port has been made for over two centuries, is Portugal's most famous DOC.
Portugal: Areas & top producersVinho Verde
Quinta da Aveleda
Porto
A A Ferreira
Churchill's
Cockburn's
Croft Port
Dow's Port
Fonseca Porto
Gran Cruz Porto
Niepoort
Quinta do Noval
Ramos Pinto
Sandeman
Taylor's Port
W & J Graham's Port
Warre's Port
Douro
Sogrape
Bairrada
Caves Aliança
Luís Pato
Ribatejo
D F J Vinhos
Setúbal Peninsula
José Maria da Fonseca
J P Vinhos
Alentejo
Herdade do Esporão
Quinta do Carmo
Madeira
Henriques & Henriques
Justino Henriques
Madeira Wine Company
Vinhos Barbeito
Perfect case: PortugalTerroir at a glanceLatitude:
37–42°N.
Altitude:
0–1,990 m.
Topography:
The Tejo (Tagus) River divides Portugal into two asymmetric halves. The land north of the Tejo is mountainous, rising to nearly 2,000 m in the Serra da Estrela, with a narrow coastal littoral. South of the Tejo the countryside is much flatter, seldom reaching over 500 m.
Soil:
Granite and schist in the interior; limestone, clay, and sand along the coastal littoral.
Climate:
Coastal regions are strongly influenced by the Atlantic, with high rainfall. Inland and to the south, the climate becomes more continental, and near the Spanish border, drought is a continual problem. The marked variation in climate is a major factor in creating many different styles of wine.
Temperature:
July average is 73°F (22.5°C) in Lisboa; 70°F (21.3°C) in the Douro.
Rainfall:
Annual average is 670 mm in Lisboa and 1,130 mm in the Douro.
Wind:
Coastal winds can cause damage. Easterly winds have a drying effect in the summer months.
Viticultural hazards:
Frost; harvest rain; fungal diseases.
Portuguese wine law
Since portugal joined the EU in 1986, a number of new wine regions have been recognized, and Portuguese wine law has gradually been brought in line with other European countries. There are four levels of quality, and grape varieties, maximum yields, and (in some instances) minimum aging requirements are controlled at both DOC and IPR levels.
Denominação de Origem Controlada (DOC)
Equivalent to AOC in France, DOC is the highest category of wine in Portugal. Wines must originate from a designated area and be produced according to local regulations.
Indicação de Proveniencia Regulamentada (IPR)
A category for wines with the potential to achieve DOC status.
Vinho regional
Regional wines, produced from a broad but legally defined area. Equivalent to vin de pays in France, this category permits the blending of wines across a wide area and is much more flexible in the range of grape varieties allowed. In the south, many producers prefer to use this category.
Vinho de mesa
Table wine.