Portugal - Winegrowing Areas of Portugal
[Do Not Use]DK Publishing
2/07/2014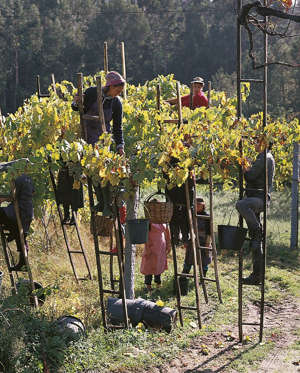 Vineyard around Vidigueira in Alentejo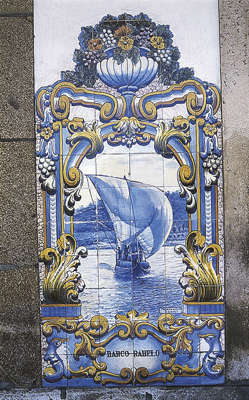 Harvesting Merlot grapes in Ribatejo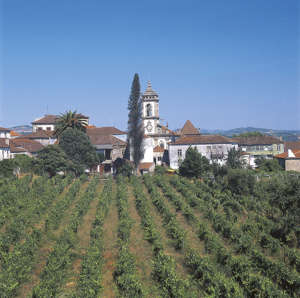 Village of Sabrosa set among vineyards of the Douro Valley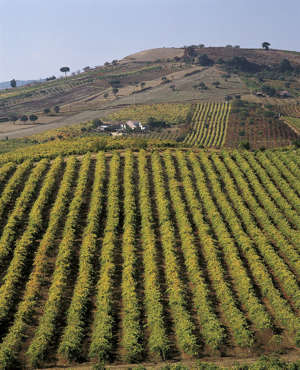 Tile depicting boat ferrying port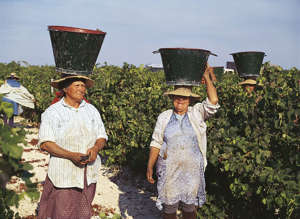 Wicker-covered madeira bottle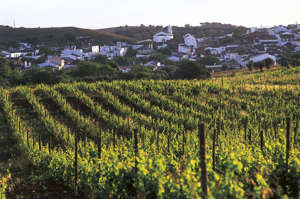 Picking grapes from vines on arbors in Vinho Verde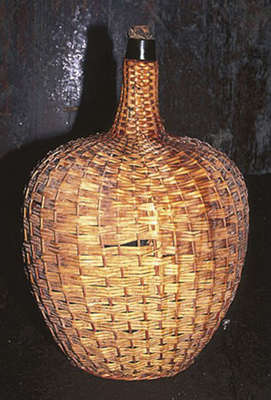 Terraced vineyards and farmland around the village of Curral das Freiras, Madeira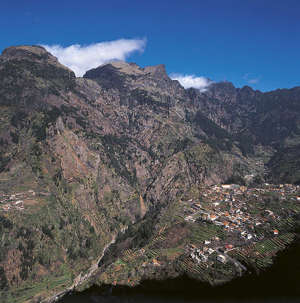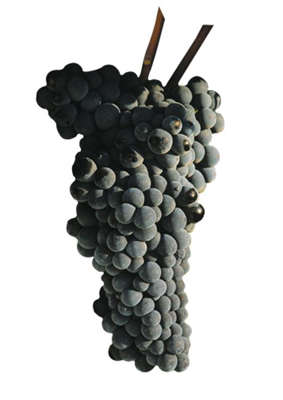 Vineyards near Arruda in Estremadura
Winegrowing Areas of Portugal

The North
The north of Portugal is home to the country's best-known wines. Some, like port and Vinho Verde, are already household names. There are four well established DOCs here, and three large but much less significant vinhos regionais: Minho, Trás-os-Montes, and Beiras.
Vinho Verde
soil type: mostly granite-based
red grape variety: Vinhão, Azal Tinto
white grape variety: Loureiro, Trajadura, Padernã, Avesso, Azal, Alvarinho
wine styles: red, white

The coastline north of the city of Porto is aptly titled the Costa Verde (Green Coast). Inland from the white sandy beaches is an expanse of vineyard known as Vinho Verde, still the nation's largest DOC, covering the entire northwestern corner of Portugal. Vinho Verde is best drunk young, in its first flush of youth; most is bottled without a vintage date on the label, and it is assumed that the wine being drunk is from the previous year's harvest.
Vinho Verde is predominantly dry and slightly fizzy, low in alcohol (8.5 to 11.5 percent) but with searingly high levels of acidity. Wines destined for export are often sweetened a little to mask this. Red Vinho Verde, which is still popular locally, has plenty of tannin, but these rasping reds pair well with local seafood. Most Vinho Verde is made from a field blend—vineyards interplanted with many different grape varieties—but an increasing number of wines are made solely from Loureiro and/or Trajadura, two of the leading white varieties in the region. In the far north along the Minho River, the Alvarinho grape produces a fuller-flavored, aromatic dry white, which goes wonderfully with Atlantic shellfish.
Porto
soil type: schist
red grape variety: Touriga Nacional, Touriga Franca, Tinta Roriz, Tinta Barroca, Tinto Cão, Tinta Amarela
wine styles: fortified

Portugal's second largest city, Porto (Oporto), lends its name to one of the world's most famous fortified wines: vinho do porto or port wine. The vineyards of Porto DOC are found 60 miles (100 km) or so inland in a tightly delimited area that corresponds to an outcrop of schist. Like the granite-based soils in most of northern Portugal, the schistous soils of the Douro are infertile and grueling to work. However, unlike granite, the schist fractures vertically, allowing the vines to root deeply in search of water and nutrients. In recognition of its unique terroir, the Douro Valley was among the first wine regions in the world to be officially demarcated, when the Portuguese government, led by the Marquês de Pombal, imposed strict boundaries on port vineyards in 1756.
Over the years, the steep slopes of the Douro and its tributaries (the Corgo, Tedo, Tavora, Torto, and Pinhão rivers) have been worked into tiny terraces, each supporting just a few rows of vines. This breathtakingly beautiful terraced landscape could be added to the list of wonders of the world, such is the feat of three centuries of engineering, and it is in fact now recognized as a World Heritage Site. In recent years, however, the drive toward increased mechanization has meant that many vineyards have had to be replanted, and some of the high retaining walls have been destroyed and replaced. Modern vineyards are either planted on patamares (terraces gouged from the slope with earth banks rather than retaining walls) or increasingly as vinha ao alto, rows of vines planted up and down the slope.
The upper Douro Valley is protected from rain-bearing Atlantic westerlies by the Serra do Marão mountains, rising to 4,600 ft (1,400 m). Within the region there are three distinct and officially recognized subregions. The most westerly of these, the Baixo Corgo, is the smallest, wettest, and most densely planted. It produces the bulk of inexpensive ruby and tawny port . The second of the three subregions, the Cima Corgo, is significantly drier. Centered on the small town of Pinhão, it is the source of the greatest of ports (vintage, LBV, and aged tawny) as well as an increasingly significant quantity of unfortified Douro wine. The third and most easterly subregion is the Douro Superior.
The hub of the port business is the city of Vila Nova de Gaia, on the estuary of the Douro River facing Porto. In the spring following the harvest, the wines are generally shipped to Vila Nova de Gaia from the vineyards to age in the relatively cool, humid environment of above-ground cellars known as "lodges." It is here that the many different styles of port are shaped.
Douro
soil type: schist
red grape variety: Touriga Nacional, Touriga Franca, Tinta Roriz, Tinta Barroca, Tinto Cão, Tinta Amarela
white grape variety: Gouveio, Viosinho, Rabigato, Malvasia Fina, Donzelinho
wine styles: red, white

The port trade still dominates in the Douro region, but winemakers are increasingly diverting more of their attention to unfortified quality wines, which have had their own demarcation (Douro DOC) since 1979. Wines from Douro DOC share the ripeness and concentration of a fine port, and this region is now producing some of Portugal's most impressive reds, made primarily from port grapes. The finest wines are made in small, sometimes minute, quantities and frequently command a high price on the domestic market. But the sheer richness and intensity of a red wine sourced from low yielding, 70-year-old vines is worth paying for.
Dão
soil type: granite
red grape variety: Touriga Nacional, Tinta Roriz, Alfrocheiro Preto, Jaen, Tinta Pinheira
white grape variety: Encruzado, Bical, Malvasia Fina, Rabo de Ovelha
wine styles: red, white

Long marketed as Portugal's best red wine, Dão DOC has often failed to live up to expectations. But now that the cooperatives have lost their stranglehold on the region, there are a number of enterprising producers intent on proving that Dão can make wines of note. Sheltered on nearly all sides by high granite mountains, Dão (like much of the Douro) is in the transition zone between maritime and continental climate, and it has the capacity to produce great wine. It shares many of the same grape varieties as the Douro, the best wines revealing the floral character of Touriga Nacional.
Most vineyards are small and scattered amid the pine and eucalyptus forests. At the moment there are only two producers of any size here, Sogrape and Dão Sul, both of which make good, spicy, peppery reds. A number of quintas (Quintas dos Roques, da Maias, de Saes, and das Carvalhas) are already producing red wines with structure, power, and intensity.
Bairrada
soil type: limestone-based clay, some sand
red grape variety: Baga, Castelão
red grape variety: Maria Gomes, Bical, Rabo de Ovelha
wine styles: red, white, rosé, sparkling

The coastal region of Bairrada DOC makes the best and worst of Portugal's wines. It is all down to the capricious red grape Baga, which dominates here. When fully ripe, Baga makes dense reds with a wonderful bramble character and the capacity to age in bottle for years, sometimes decades. Luís Pato, Casa da Saima, Quinta do Baixo, and Caves São João are Baga's most convincing producers. All too often, however, the grapes are picked under-ripe when rain threatens at harvest time, and the wines taste astringent and weedy. More attention to viticulture is needed in this region to help the grapes ripen earlier. Like so much of northern Portugal, however, Bairrada is divided into tiny holdings tended by weekend farmers who sell their grapes to the cooperatives to make the wine. Much of the region's crop ends up in Mateus rosé, which is made at Anadia in the heart of this area. White wines are also produced, largely for the benefit of the local sparkling wine industry.
Central Portugal
With the exception of a few historic enclaves, central Portugal has long been a source of quantity rather than quality for wine. Two regions, Estremadura and the Ribatejo, produce nearly a third of the nation's output of wine. Things are changing, however, and within these regions there are a number of promising terroirs that now have their own DOCs.
Estremadura
soil type: mostly limestone-based
red grape variety: Castelão, Tinta Miuda, Cabernet Sauvignon, Syrah, Merlot
white grape variety: Antão Vaz, Arinto, Bical, Chardonnay, Fernão Pires
wine styles: red, white, rosé

This strip of maritime countryside is colloquially known as the Oeste (West). The entire region includes around 50,000 ha of vineyard, but less than a third of this qualifies as DOC or IPR (of which there are seven, Alenquer and Arruda being the best-known) or vinho regional. Although the proportion of wine entitled to these geographic designations is on the increase, most wine from Estremadura is still sold as vinho de mesa, with 19 large cooperatives producing the bulk. Helped by funds from the EU, these establishments have undergone a transformation in recent years. With a certain amount of guidance from consultant winemakers, they are now capable of producing some inexpensive, characterful reds. The best wines come from the leeward side of the Serras Aire, Candeiros, and Montejunto. Here, particularly around the town of Alenquer, there are a number of quintas already producing world-class wine. Best of all is Quinta do Monte d'Oiro, with a Syrah that competes with the greatest of the northern Rhône.
Colares
soil type: sand
red grape variety: Ramisco
white grape variety: Arinto, Jampal, Malvasia
wine styles: red, white

This tiny DOC on the Atlantic coast west of Lisboa (Lisbon) is the haven for one of Portugal's most historic wines. Planted in sandy cliff-top soil, the Ramisco vines here survived the phylloxera epidemic that swept through Europe in the 19th century. Phylloxera cannot complete its life cycle in sand and therefore does not attack the roots of the vines. Production has declined in recent years, but the few gnarled vines that remain continue to grow on their own roots without the need to be grafted onto phylloxera-resistant rootstock. Good Colares, mostly red, is now hard to find; older vintages hint at greatness with wonderful fragrance and finesse.
Bucelas
soil type: limestone-based
red grape variety: Arinto, Esgana Cão, Rabo de Ovelha
wine styles: white

Despite being less than 16 miles (25 km) from Lisboa, Bucelas DOC has still managed to hang onto and even reclaim some of its rural heritage. The region was well known in the 19th century for the production of Portuguese hock, a white wine that was often fortified with brandy. Bucelas is still white, but is now bottled unfortified. The main grape here is the lemony-lime Arinto, one of Portugal's leading white grapes. Often in partnership with the ferocious Esgana Cão, it produces dry, fruity white wine balanced by crisp natural acidity.
Ribatejo
soil type: varied: limestone-based clays, alluvium, sand
red grape variety: Castelão, Camarate, Preto Martinho, Tinta Miuda, Trincadeira, Touriga Nacional, Cabernet Sauvignon, Merlot, Syrah
white grape variety: Fernão Pires, Talia, Boal de Alicante, Arinto, Chardonnay, Sauvignon Blanc
wine styles: red, white

The Ribatejo straddles the Tejo (Tagus) River upstream from Lisboa and is Portugal's agricultural heartland. The small holdings that dominate the north overflow from Estremadura into the western margins of the province. To the south and east are some of the largest and most prosperous wine estates in Portugal. Fertile soils, frequently inundated by the river itself, support all manner of produce, including a huge crop of grapes.
This is an area for large quantities of wine at low prices. There is, however, now a welcome transfer of vineyards to the higher land on either side of the Tejo, where yields are naturally lower and quality improved. Much of the region's wine is white, made from the versatile Fernão Pires grape and a legacy from the time when Ribatejo produced the spirit for fortifying port. It is the reds, however, that are now attracting the most attention with substantial plantings of international grapes (Cabernet Sauvignon, Merlot, and Syrah) alongside the best indigenous varieties, like Trincadeira and Touriga Nacional. In the warmer southeast of the region, many of the wines share an affinity with those from the neighboring and hugely successful Alentejo. The entire Ribatejo is now covered both by DOC and vinho regional, the latter known somewhat confusingly as Ribatejano. Six subregions, Tomar, Chamusca, Santarém, Almeirim, Cartaxo, and Coruche, can add their names to the Ribatejo DOC.
The South
Much of Southern Portugal used to be a no-man's land for wine. As recently as 20 years ago, there was virtually nothing fit to drink. The hot climate made much of the wine taste stewed, fruitless, and unpalatable. With financial help from the EU, the introduction of stainless steel, accompanied by temperature-controlled fermentation, has transformed the fortunes of this area, and the province of Alentejo in particular is now a wine region to be taken seriously.
Setúbal Peninsula
soil type: limestone in hills, sandy on plains
red grape variety: Castelão, Trincadeira Preta, Aragonez, Touriga Nacional, Touriga Franca, Cabernet Sauvignon, Merlot, Syrah
white grape variety: Moscatel de Setúbal, Fernão Pires, Arinto, Chardonnay, Sauvignon Blanc
wine styles: red, white, rosé, fortified

The land between the Tejo and Sado rivers juts out into the Atlantic. Known unofficially as the Setúbal Peninsula, it is home to two of Portugal's leading winemakers, José Maria da Fonseca and J P Vinhos (alias João Pires). The region produces numerous different wines, each with their own overlapping demarcations.
Setúbal DOC applies to a sweet, fortified wine made from the local Muscat grape (Moscatel de Setúbal). Aged in cask, sometimes for decades, before bottling, the wine turns from amber-orange after about five years to mahogany brown after 20, then ebony with 50 or more years in wood. Candied fruit notes take on a hint of butterscotch and eventually develop a richness resembling molasses. At its best at around 20 years old, Setúbal is the wine to drink with Christmas fruitcake.
The Palmela DOC covers much the same ground as Setúbal, but extends eastward to cover more of the plain. The area has two very distinctive terroirs: the north-facing limestone hills seem more suited to white grapes (as well as Cabernet Sauvignon and Merlot); whereas on the sandy soils inland and to the east, the red Castelão grape dominates. Here, the climate seems to have just the right maritime and continental mix for this grape to produce wines with some depth and aging capacity. Raspberryish and often astringent when young, the wines gain a note of tarlike complexity with age.
Terras do Sado is the name of the vinho regional that covers the Setúbal Peninsula in its entirety as well as the coastline southward toward the Algarve. It embraces around 60 grape varieties, and there are a growing number of innovative wines combining both indigenous and international grapes. Most of the wine production is concentrated in the north, but there is a prison near Grandola, south of Setúbal, that keeps its inmates occupied with tending vines and making wine.
Alentejo
soil type: varied with schist, granite-and-limestone-based soils
red grape variety: Trincadeira, Aragonez, Castelão, Moreto, Cabernet Sauvignon, Syrah, Alicante Bouschet
white grape variety: Antão Vaz, Roupeiro, Diagalves, Manteudo, Perrum, Chardonnay
wine styles: red, white

The largest province in Portugal, the Alentejo stretches from the Tejo in the north to the Algarve in the south, taking up almost a third of the country. It has a mere sixth of Portugal's population, and agriculture is extensive, with estates (latifúndios) extending to hundreds, sometimes thousands, of hectares. Cork has long been one of the region's most important products, but the barren plains are now interrupted by huge swaths of green vines.
The moderating effect of the Atlantic diminishes sharply inland, and low summer rainfall is a continual problem. Irrigation (once forbidden by the EU) is now considered essential. With super-ripe, sun-drenched flavors coming from charismatic grapes like Aragonez and Trincadeira, red wines from the Alentejo have become hugely marketable for their easy-going, ripe flavors. Large producers such as Esporão and Cartuxa, and well-run co-ops at Redondo and Reguengos are able to produce huge volumes of consistent wine that would be difficult to replicate farther north. There are also one or two good whites made from Antão Vaz and Roupeiro. The entire Alentejo province is now covered by a vinho regional called Alentejano, and there are eight distinct enclaves with DOC status: Portalegre, Borba, Redondo, Évora, Reguengos, Granja-Amareleja, Moura, and Vidigueira. Each of these regions has the right to bottle wines under their name preceded by "Alentejo."
Algarve
soil type: limestone-based clay
red grape variety: Negra Mole, Bastardo, Castelão, Aragonez, Trincadeira, Syrah
red grape variety: Arinto, Diagalves, Perrum, Rabo de Ovelha
wine styles: red, white

Portugal's southernmost coast is a world-renowned tourist destination, but it has never been recognized for its wine. Singer Cliff Richard established a winery here and now seems set to change the Algarve's image with a red wine made from Aragonez, Trincadeira, and Syrah. First released in 2001, it is not a great wine for the price, but it is significantly better than anything else the Algarve has ever produced. It is too early to say whether others will follow, but it has already led to renewed interest in the Algarve as a wine region.
Madeira
soil type: volcanic
red grape variety: Tinta Negra Mole
white grape variety: Sercial, Verdelho, Bual, Malvasia
wine styles: fortified

Two sworn enemies of most winemakers—heat and air—conspire to turn madeira into one of the world's most enthralling wines, as well as the most resilient. Due to the island's strategic position in the Atlantic (750 miles/1,200 km southwest of Lisboa), Madeira became an important sea port soon after it was colonized by the Portuguese in the 15th century. Vines were planted on the island, and wine was taken on board ships, possibly as an antidote to scurvy. It was soon found that these wines, fortified to prevent spoilage, took on a different character when they were shipped across the tropics, and in the late 18th century, a fashion for madeira developed in the US and UK.
Nowadays wines are no longer shipped in cask across the tropics, but the wines are still heated, either artificially in giant vats (estufas), or in cask, for many years at the warm ambient temperatures that prevail on the island. The soil here is entirely volcanic, and vines fight for space with other crops on tiny, steplike terraces known as poios. There are four main grape varieties officially classified as "noble": Sercial, Verdelho, Bual, and Malvasia. Individually these white grapes are used to make varietal wines ranging in style from bone-dry to rich and sweet. However, the most planted variety on the island is the versatile Tinta Negra Mole, which is used to make wines in a range of styles imitating the so-called "noble" grapes.
Due partly to the soil, partly to the grapes themselves, but also to high yields, all madeiras have distinctively crisp acidity. The driest wines, made from Sercial, can be quite austere in style, but in the medium-dry Verdelho and the richer Bual and Malvasia (Malmsey), the acidity helps to counterbalance the sweetness. Due to the heating process, which the wines undergo before bottling, madeira is the world's most long-lived wine, and it is possible to find wines from the late 18th century that are still incredibly alive and enjoyable today. Once opened the wines do not deteriorate for months, even years.
Portugal's unique grape varieties
What do a red dog, a cat's tail, a ewe's tail, fly droppings, and a dog strangler have in common? They are all names of Portuguese grape varieties. Portugal has evolved like a viticultural island and boasts a fascinating array of native grapes. Many are of little note, but in the viticultural work that has been gathering pace over the past decade, a number of excellent indigenous varieties have emerged. Due to the interplanting of different grape varieties in the same plots, most Portuguese wines are traditionally blends, but since varietal planting has became more commonplace since the 1980s, varietal wines are now making their mark. Although there are a handful of promising white grapes (Loureiro, Arinto, Encruzado, Antão Vaz), most are red and can now be found as varietal wines. Some of the best are the traditional port grapes: Touriga Nacional, Touriga Franca, and Tinto Cão. Also capable of good, or even great, results are the spicy, peppery Trincadeira, raspberry-flavored Castelão, and Baga with its wonderful wild berry, bramble character, as well as Alfrocheiro and Tinta Miuda. Other than Spain's Tempranillo (known here as Tinta Roriz and Aragonez), foreign grape varieties have made comparatively few incursions into Portugal.