Pungent and Spicy Herbs - Thyme - Thymus species
[Do Not Use]DK Publishing
2/07/2014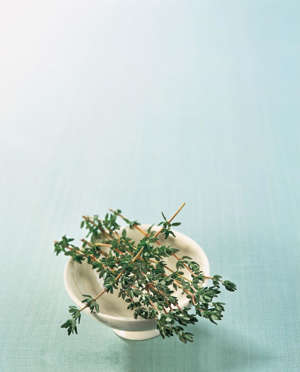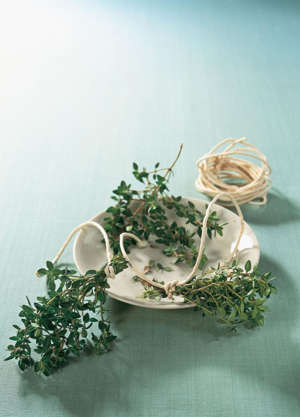 Thyme - Thymus species
Thyme is a small, hardy, evergreen shrub with small, aromatic leaves, indigenous to the Mediterranean basin. It grows wild on the hot, arid hillsides of its native region, where it has infinitely more flavor than it ever achieves in cooler regions. Wild thyme tends to be woody and straggly. Cultivated varieties have more tender stems and a bushy form; there are hundreds of them, each with a slightly different aroma, and they have a tendency to cross-breed as well.
Culinary uses
Thyme is an essential flavoring in much Western and Middle-Eastern cooking. Unlike most herbs, it withstands long, slow cooking; used with discretion it enhances other herbs without overpowering them, and in stews and casseroles combines well with onions, beer, or red wine. Thyme has become indispensable in every French stew, from pot-au-feu to cassoulet, but equally in Spanish ones and, by extension, those of Mexico and Latin America, where it is often used in combination with chili peppers. It is widely used to flavor pâtés, thick vegetable soups, tomato and wine-based sauces, and in marinades for pork and game. In Britain, it is used in stuffings, pies, and jugged hare. The dried herb is essential in the Creole and Cajun cooking of Louisiana, where it appears in gumbos and jambalayas; elsewhere in the US, fresh thyme is used as a traditional flavoring in New England clam chowder.
Essential to most bouquets garnis.
Good with cabbage, carrots, corn, eggplant, lamb, leeks, legumes, onions, potatoes, rabbit, tomatoes, wild mushrooms.
Combines well with allspice, basil, bay, chili, clove, garlic, lavender, marjoram, nutmeg, oregano, paprika, parsley, rosemary, savory.
Tasting notes
The whole plant has a warm, earthy, and peppery fragrance when lightly brushed. The taste is spicy, with notes of cloves and mint, a hint of camphor, and a mouth-cleansing aftertaste.
Parts used
Leaves and sprigs; flowers for garnishes.
Buying and storing
Many varieties of thyme are sold by nurseries, but make sure they smell when brushed lightly by hand. Common and lemon thyme are available fresh from supermarkets. Fresh leaves will keep for up to a week stored in a plastic bag in the refrigerator. Dried thyme will retain its flavor through the winter.
Grow your own
All thymes need very well-drained, sandy soil and as much sun as they can get. They benefit from the heat reflected off patio stone paving and the rocks in rock gardens. Propagation is easiest by division. Pick leaves when needed – the more often the better, or the plant may become straggly and woody. Harvest thyme for drying just before it flowers.
Common thyme - T. vulgaris
The basic thyme for cooking, also called garden thyme, is a cultivated variety of wild Mediterranean thyme. It forms a sturdy, upright shrub with gray-green leaves and white or pale lilac flowers. There are a number of garden thymes, including English "broad-leaf" and French "narrow-leaf" varieties.
Lemon thyme - T. citriodorus
This is a compact, upright shrub with mauve-pink flowers that gives a fresh lemony note to fish and seafood, roast chicken, or veal; it can be used in cookies, breads, and fruit salads. For the cook lemon thyme is the most important variety after garden thyme.