Recipes to Contemplate - Appetizers with 10 Tastes
[Do Not Use]DK Publishing
2/07/2014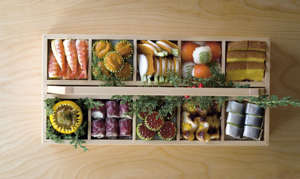 Top row, from left: Shrimp and Egg Yolk Vinegar, Salted Uni in a Sudachi Cup, Karasumi and Daikon, Salmon and Fluke–Ball Sushi, and Egg Castella.
Appetizers with 10 Tastes

This extravagant display is typical for special occasions. The customer can request special ingredients and note preferences, but it is up to the chef to choose the best fish according to availability and to use his creativity to contrast colors, flavors, and textures.