Rosemary - Dry Herbs
[Do Not Use]DK Publishing
2/07/2014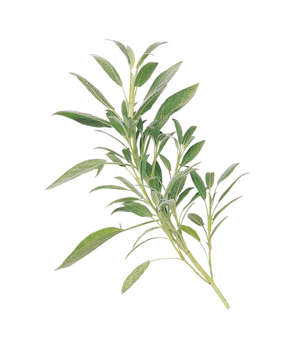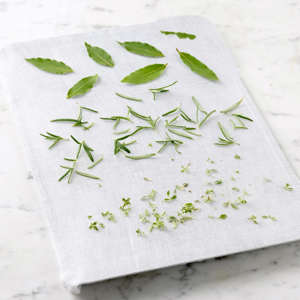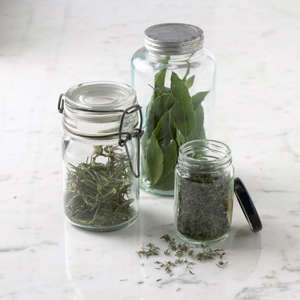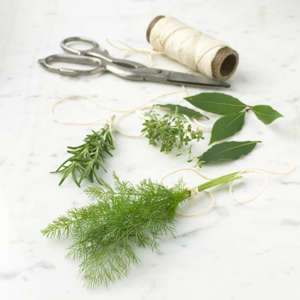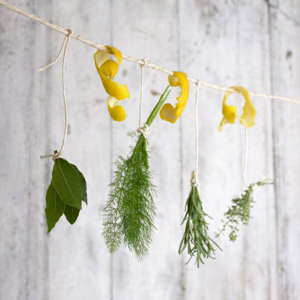 Dry Herbs

The flavor of herbs with woody stalks and tougher leaves, such as bay, thyme, and rosemary is well preserved by drying. Place individual leaves, fronds, and small sprigs on a piece of muslin stretched over a frame out of direct sunlight in a dry, airy room for at least 2 weeks until their color fades a little, and the herbs turn slightly brittle. Alternatively, hang in bundles to dry. Most home-dried herbs lose their flavor after 6 months, as their essential oils evaporate.
Drying flatLay herbs flat
Place leaves of herbs, such as thyme, rosemary, marjoram, oregano, fennel, dill, bay, or sage, flat on a muslin cloth so they do not touch one another.
Store in jars
Once dry (leave for at least 2 weeks) pack the herbs loosely in clean glass jars with tightly fitting lids. Seal the jars and store away from direct light.
Hanging herbsMake herb posies
Tie together 3–4 stems of single herbs, such as bay, fennel fronds, rosemary, or thyme. Hang in an airy, dry room out of direct sunlight.
Leave to dry
Hang strips of lemon peel alongside the herbs, if you like, and leave for 2 weeks until the color fades and the herbs are brittle. Untie and store in sealed jars.
Drying seeds and flowers
Fennel, dill, and coriander seeds, among others, can be home-dried for use in cooking. Both dried seeds and flowers should be used within 6 months.
Seeds
Hang up bunches of stems, covering the seed heads with muslin and tying securely in place. After a week or so, collect the seeds and store in a paper bag.
Flowers
Lavender, fennel, and chamomile flowers are easy to dry. Remove the stems, cut off the flowers, and dry on a muslin stretched over a frame for 3 weeks.