Skewers - Middle Eastern Delights
[Do Not Use]DK Publishing
2/07/2014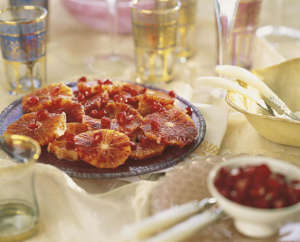 Saffron feta phyllo triangles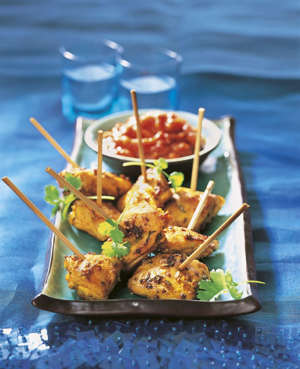 Cardamom-poached apricots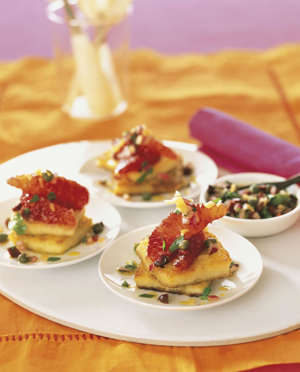 Garbanzo and chili pepper dip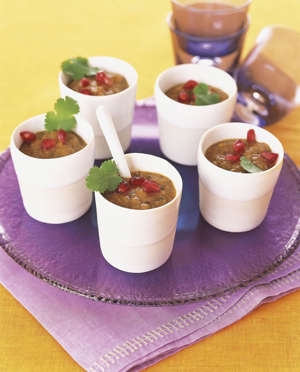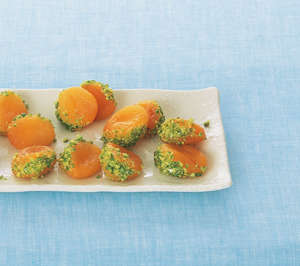 Pack your bags for the spice trail. Begin your journey in Iran, continue on through Turkey, stay a little while in Morocco, and linger in Spain. These countries' cuisines have each been molded by a legacy of Persian cooking brilliance.
A traditional Middle Eastern meal is composed of a variety of smaller dishes, which is the classic style of mezze and tapas. These diminutive little bites, from garbanzo dips to savory pastries, offer your taste buds truly memorable eating experiences. Lemons, olives, coriander, saffron, rose water, dried apricots, and pistachios are the stars of this exemplary food. Aromatic spices, fresh herbs, flaky pastry, and creamy legumes are present in endless, delicious variations.
So, light every candle you own and fill your home with a sensual glow. For the table, seek out creamy-colored linens and lightweight fabrics, such as voile; gold-rimmed glassware and tea glasses; and scatter red rose petals over everything. Picture Arabian nights and recreate the soft, romantic atmosphere that makes the Middle East so special.
Colors
Creamy ivory
Warm tangerine
Rose pink
Gold or silver
Cool violet
Tableware
Tea lights and candles
Gold-rimmed glasses
Creamy-colored linens
Red rose petals
Embroidered napkins
Flavors
Pungent cumin
Sharp lemon
Luxurious saffron
Dried fruits
Fragrant rose water
Nibbles
Pistachios
Marinated black olives
Hummus with smoked paprika
Sumac-dusted shrimp
Crushed feta dip
Menu
Garbanzo and chili pepper dip with pita crisps
Saffron chicken skewers with sweet tomato jam
Saffron feta phyllo triangles with preserved lemon and onion
Pan-fried halloumi salad with black olive dressing
Yellow lentil soup with prunes, pomegranates, and apricots
Cardamom-poached apricots with mascarpone and pistachios
Buy and arrange
Marinated black olives
Oranges with rose water and pomegranate seeds
Crushed feta dip
Two days before
Make sweet tomato jam
Make yellow lentil soup
Marinate black olives
The night before
Make pita crisps for the garbanzo dip
Marinate saffron chicken
Assemble saffron feta phyllo triangles
Make cardamom-poached apricots
In the morning
Puree base of garbanzo dip
Cut oranges and make black-olive dressing for halloumi salad
Make oranges with rose water
One to two hours before
Finish garbanzo dip
Sear saffron chicken
Pan-fry halloumi for the salad
Plate cardamom-poached apricots
Reheat yellow lentil soup
Organize cocktail Ingredients
Half an hour before
Reheat sweet tomato jam
Cook saffron chicken skewers
Plate oranges with rose water
Bake saffron feta phyllo triangles
Half an hour before
Plate garbanzo dip with pita crisps
Plate saffron chicken skewers
Plate halloumi salad with black olive dressing
Plate saffron feta phyllo triangles
Pour yellow lentil soup
Pour champagne cocktails