South Africa - Wine Map of the Cape Peninsula & Surrounds
[Do Not Use]DK Publishing
2/07/2014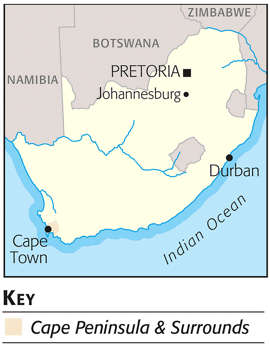 Cape Point Vineyards, Cape Point District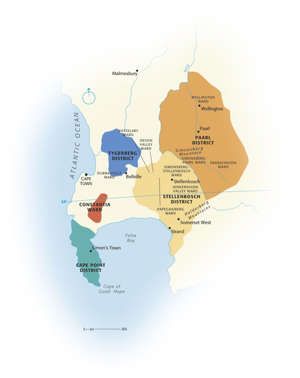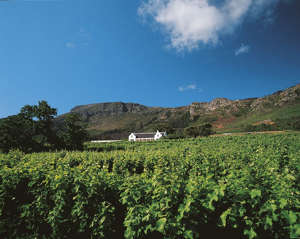 Grape picker, Fairview, Paarl District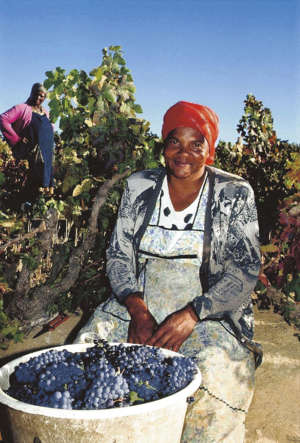 Jordan Wines vineyards, Stellenbosch District
Wine Map of the Cape Peninsula & Surrounds

These southerly areas are the heart of the South African wine industry, producing wine that is quality-driven throughout. With its varied terroirs, Stellenbosch is preeminent, although Paarl is now also breaking onto the scene; both specialize mainly in red wines. Since the 1980s, Constantia has been regaining status, not only with its much-publicized Vin de Constance but with its fine Sauvignon Blanc and Merlot, too: varieties that are also gaining recognition in Tygerberg. Cape Point, planted only in the mid-1990s, has meanwhile gotten off to a very successful start. These areas are likely to remain the leaders in quality South African wine for the foreseeable future.
Cape Peninsula & surrounds: Areas & top producersPaarl District
Boekenhoutskloof
Fairview
Glen Carlou
Rupert & Rothschild Vignerons
Veenwouden Private Cellar
Welgemeend Estate
Stellenbosch District
De Trafford Wines
Jordan Wines
Kanonkop
Le Riche Wines
Meerlust Estate
Morgenster Estate
Mulderbosch Vineyards
Neil Ellis Wines
Rustenberg Wines
Rust en Vrede Estate
Saxenburg
Thelema Mountain Vineyards
Vergelegen
Villiera Wines
Constantia Ward
Klein Constantia Estate
Steenberg Vineyards
Cape Point District
Cape Point Vineyards
Perfect case: Cape PeninsulaTerroir at a glanceLatitude:
33–34.5°S.
Altitude:
0–550 m.
Topography:
Mountains dominate—vineyards are planted on slopes and lush valley floors.
Soil:
Varies dramatically, with over 50 types of soil in the Stellenbosch region alone, but predominantly highly acidic and clay based.
Climate:
Mediterranean. Long hot summers and cold, wet winters. Snowfall on the higher mountains.
Temperature:
January average is 73°F (23°C).
Rainfall:
Annual average ranges from 735 mm in Stellenbosch to 1,070 mm in Constantia. Irrigation is often necessary.
Wind:
Summer wind from the southeast, also known as the Cape Doctor, cools down vineyards and helps prevent disease.
Viticultural hazards:
Humidity; heat stress; strong winds.
Vin de Constance
Governor of the Cape from 1679 to 1699, Simon van der Stel was granted a farm in 1685 by the Dutch East India Company, which he named Constantia. Among other grapes, he planted Muscat de Frontignan, and soon made a sweet wine. But it was not until the Cloete family bought the farm at the end of the 18th century that this delicious dessert wine gained international fame. The honeyed liquid, known simply as Constantia, was relished by European royalty and even Napoleon.
The wine then disappeared when the Cape government purchased the estate in 1885 as an experimental farm. Fast-forward to 1980, when the Jooste family bought Klein Constantia, part of van der Stel's original farm, and set about re-creating the fabled wine. Low crops of very ripe Muscat de Frontignan grapes, slowly fermented, aged in oak barrels, and sold in 19th-century replica bottles, have been made into what is now known as Vin de Constance. This modern Cape classic enjoys international recognition, matching that attained by Cloete's initial masterpiece.