South Africa - Winegrowing Areas of the South Coast & Interior
[Do Not Use]DK Publishing
2/07/2014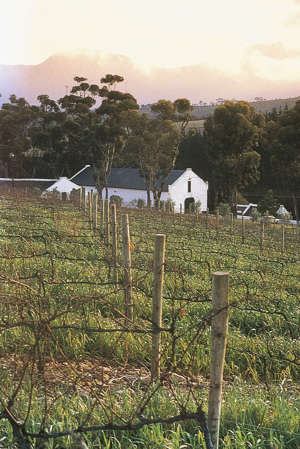 Vineyards with Langeberg Mountains in the background, Breede River Valley Region
Hamilton Russell Vineyards in Walker Bay, Overberg District
Winegrowing Areas of the South Coast & Interior

The south coast and interior present two quite different sides of South African wine. The interior areas of Klein Karoo and the Breede River Valley are traditional, hot winegrowing areas; while Overberg and the areas south to Elim typify modern viticulture in South Africa, where the search is for cooler growing conditions and quality is the only goal.
Klein Karoo Region
soil type: silty alluvial, shale, sandstone
red grape variety: Ruby Cabernet, Shiraz, Pinotage, Merlot, Red Muscadel (red Muscat Blanc à Petits Grains)
wine styles: Colombard, Chenin Blanc, Hanepoot (Muscat d'Alexandrie), Chardonnay
wine styles: red, white, sparkling, dessert, fortified

Also known as little karoo, this region has long been associated with fortified wines. The area's reputation is today centered on port-style fortifieds, with Calitzdorp District as the country's unofficial HQ in this field. Production tends to be traditional here, the grapes trodden by barefoot workers in shallow, open cement tanks. The area's climatic similarity to the Douro region in Portugal was the inspiration for local producers, and the hot, dry climate makes irrigation a must. Water is the major limitation on vineyard planting, hence the small area under vine in this large region (just over 3,000 ha). Still, there is plenty of varietal diversity, and most grapes are grown experimentally by a mix of independent and cooperative wineries.
Tradouw Ward is a smaller, more recently discovered area, which enjoys an unhindered view of the sea, (28 miles) 45 km to the south. Its cooling influence assists in the making of elegant Bordeaux-style reds and refined Chardonnays from the ward's limited 115 ha.
Breede River Valley Region
soil type: alluvial, shale, limestone
red grape variety: Cabernet Sauvignon, Shiraz, Merlot, Pinotage, Cinsaut, Ruby Cabernet
wine styles: Chenin Blanc, Colombard, Hanepoot (Muscat d'Alexandrie), Chardonnay, Sauvignon Blanc, Muscat Blanc à Petits Grains
wine styles: red, white, sparkling, dessert, fortified

The Breede River Valley is tracked along its northern bank by the Langeberg Mountains. The area's two principal winegrowing districts, Worcester and Robertson, straddle the banks of this river; but just as important is Brandvlei Dam, the all-important irrigation source.
With approximately 18,130 ha, the district of Worcester boasts the largest area of vineyards in the country. Most vines here were initially planted along the fertile riverbanks, with brandy production their chief purpose. However, the varietal mix, vineyard sites, wine styles, and, most importantly, producer attitudes are now changing. While Chenin Blanc and Colombard remain the major varieties, Chardonnay, Sauvignon Blanc, Cabernet, and Shiraz are not far behind. Hillside vineyards are now producing lower yields of better fruit, from which the main co-ops make pleasant wines. Oak staves and chips are sometimes used to add extra flavor to those destined for early drinking. And many wines are custom-designed for UK supermarkets or local négociants for sale under their own labels. There is also a slice of history to be found in the area's traditional dessert and fortified wines, made from Muscat grapes, that made the old Constantia wine famous.
The region's other main district, Robertson, has a lot of limestone, which is ideal for Chardonnay, both as a still wine and in Cap Classique sparkling styles. White varieties have dominated, but Shiraz and Cabernet Sauvignon also do well now, with bright, fresh fruit and firm but friendly tannins.
Overberg District
soil type: gravelly, sandstone with shale and granite
red grape variety: Cabernet Sauvignon, Merlot, Shiraz, Pinot Noir, Pinotage
wine styles: Sauvignon Blanc, Chardonnay, Chenin Blanc, Sémillon
wine styles: red, white, dessert

The Wards of Elgin and Walker Bay provide the main quality wine interests in Overberg. Their importance, however, hugely exceeds the tiny percentage of the Cape's wine crop that they produce. Small, independent companies make up the winery count here, though bigger players, such as Neil Ellis Wines, also buy in grapes from this area.
Apple orchards dominate highland Elgin Ward. It has, however, also attracted some of the Cape's top wine producers of late. The current area under vine is only about 150 ha, but the draw is its cooler climate and longer ripening period. In fact, Paul Cluver, an Elgin wine pioneer, and Iona, another new producer, have already proved the area's suitability for white wines—Sauvignon Blanc in particular.
As for the ward of Walker Bay—with its slightly more temperate climate—most wineries are in the Hemel-en-Aarde Valley. The top red is Pinot Noir; while Sauvignon Blanc is the main white variety.
Pinot Noir on the rise
Early results with Pinot Noir encouraged more South African growers to give it a try; even a Burgundian (Paul Bouchard) has joined forces with a local winemaker (Peter Finlayson) to focus on the variety. The opening of new areas, improved vine material from France, extensive exposure and tasting abroad, and sheer determination have all helped Pinot Noir's huge transformation in South Africa. Not only the Hemel-en-Aarde Valley in Walker Bay, but highland Elgin, Constantia, parts of Stellenbosch, and even Paarl now make individual still wines. The variety also continues to play an important role in the Méthode Cap Classique sparkling wines. Hamilton Russell Vineyards and its neighbor Bouchard Finlayson are considered leaders in the Pinot pack.
Elim Ward
soil type: shale
red grape variety: Cabernet Sauvignon, Merlot, Petit Verdot
wine styles: Sauvignon Blanc, Sémillon
wine styles: red, white

It is still early days in this ward, home to Africa's most southerly vines. Vineyards were only established here at the end of the 1990s, and in 2002 totaled a mere 51 ha. But Sauvignon Blanc, which accounts for just over half that figure, is already hauling in awards. These have been won through hard work, since the cool climate makes rot a problem. The wind and birds can cause additional worries in this exposed area, ruining young shoots. Elim reds have only recently reached the market, but winemakers say the results could be even better than for their whites. There are no cellars here yet and only a handful of labels currently carry the Elim WO. But watch this space.