South Italy & the Islands - Wine Map of South Italy & the Islands
[Do Not Use]DK Publishing
2/07/2014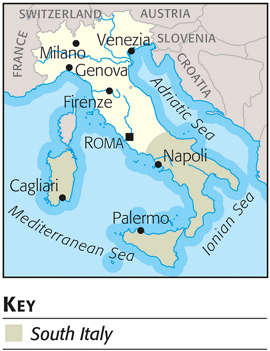 Grape picker at D'Ambra, Campania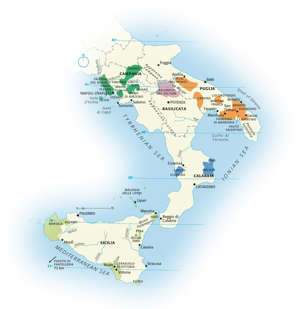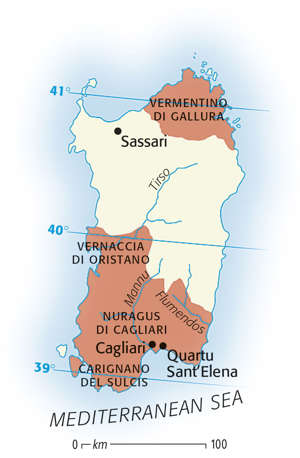 Vineyards near Menfi, Sicilia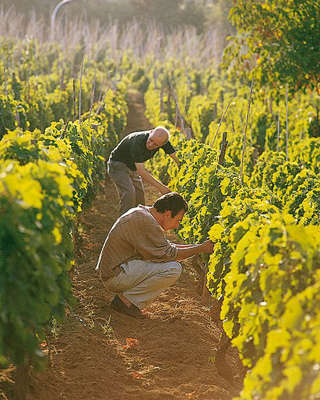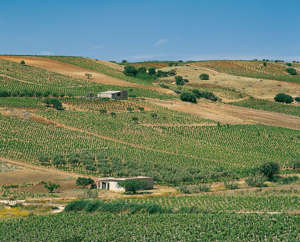 Tending Aglianico vines, Basilicata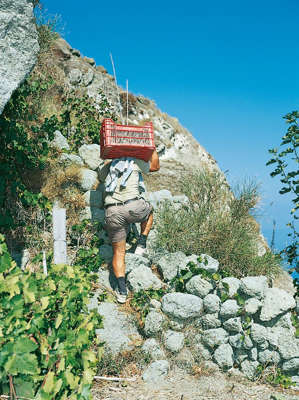 Wine Map of South Italy & the Islands

No vineyard in Italy is far from the sea. Coastal sites at lower altitudes in the south experience the greatest maritime influence, while those planted farther inland balance altitude with the impact of the sea. The fertile plains of Puglia form one of the country's largest wine producing areas. In contrast, winegrowing in hillier Basilicata, Campania, and Calabria is more difficult, and there are only a handful of DOC(G)s. The islands of Sicilia (Sicily) and Sardegna (Sardinia) share both geographical isolation and viticultural diversity.
South Italy & the islands: Areas & top producersPuglia
Candido
Cantina del Locorotondo
Felline
Leone de Castris
Rivera
Taurino
Vallone
Campania
Caggiano
D'Ambra
Fattoria Villa Matilde
Feudi di San Gregorio
Molettieri
Terredora
Calabria
Librandi
Odoardi
Sardegna
Argiolas
Cantina Gallura
Cantina di Santadi
Capichera
Contini
Sicilia
Benanti
Calatrasi
Colosi
Cusumano
Donnafugata
Firriato
Gulfi
Marco de Bartoli
Morgante
Murana
Palari
Planeta
Valle dell'Acate
Perfect case: South Italy & the IslandsTerroir at a glanceLatitude:
41.5–37°N.
Altitude:
10–600 m.
Topography:
The Apennine mountain range dominates the mainland, with the best vineyards situated in north-facing foothills. Many Sicilian vineyards are planted on the slopes of Monte Etna.
Soil:
Predominantly volcanic and granite, with some clay and chalk.
Climate:
The southern location and the sirocco (a hot wind from Africa) ensure high ripening temperatures, while the influence of the Mediterranean reduces nocturnal temperatures in coastal areas by as much as 36°F (20°C).
Temperature:
July average is 76°F (24.5°C).
Rainfall:
Annual average is 600 mm. The South's hardy grape varieties can ripen to perfection despite the absence of water during the growing season.
Viticultural hazards:
Sirocco wind, which can desiccate grapes; drought; rapid ripening.