South Italy & the Islands - Winegrowing Areas of South Italy
[Do Not Use]DK Publishing
2/07/2014
Vineyards in Savuto on Calabria's northern coast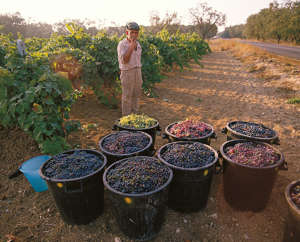 Harvested grapes near Brindisi, Puglia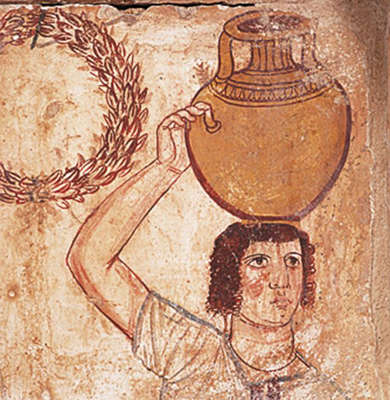 Farmhouse and vineyard in Aglianico del Vulture, Basilicata
Vineyard in Martina Franca, southern Puglia
Winegrowing Areas of South Italy

Puglia
soil type: sand and clay over limestone, outcrops of iron-rich, red loam
red grape variety: Primitivo, Aleatico, Negroamaro, Malvasia Nera, Montepulciano, Sangiovese, Uva di Troia
white grape variety: Bombino Bianco, Verdeca, Trebbiano, Chardonnay
wine styles: red, white, rosé, dessert, fortified

Flat as a pancake and sun-scorched throughout the long summer months, Puglia is Italy's answer to California's Central Valley or Australia's Riverina. For grape growers, the living is easy: rain falls obediently during the winter months long after the grapes have been harvested; there is an abundance of ancient, non-irrigated vineyards planted with local varieties; grapes generally ripen beautifully with little annual variation; and land values are a tenth of what they are in the north. With such obvious advantages, it is not surprising that some of Italy's biggest producers, including Antinori, GIV, and Casa Girelli, have decided to set up camp here.
Despite Puglia's natural advantages, the average quality of its wines has, until recently, remained resolutely low. Generations of winemakers have squandered the potential of this viticultural paradise through absurdly high yields and poor techniques. Puglia produces more wine than any other region in Italy—14 percent of the nation's total—yet just 2.5 percent is DOC status. For decades, northern Europe quietly absorbed the region's tanker-loads of wines, destined either for vermouth production or for blending into less robust offerings. Puglia's culture of overproduction, however, has recently crashed headlong into Europe's general declining consumption and the current affection for New World wines. Together, these have spelled an end to the halcyon days of bulk sales, and the Pugliesi have had change tactics.
The last 10 years have witnessed a veritable renaissance in Puglia's fortunes and, to their credit, the region's growers have been far from complacent. Two factors have played a crucial role in this regeneration. External investment, through both EU subsidies and private companies, brought much-needed capital to an area desperate for the advantages of refrigeration and stainless steel. The second factor was the arrival of flying winemakers, often from the New World, who brought both innovative ideas and a firm understanding of modern wine styles.
The concept of terroir is very much alive and well in Puglia. The patchwork of grape varieties, topographies, and philosophies have created a myriad of local wine styles reflected in the often arcane legislation of more than 25 DOCs. Consequently, this region can offer something for every palate.
Northern Puglia marks the limit of cultivation of central Italian grapes—Trebbiano for the whites, and Montepulciano and Sangiovese for the reds—and the beginning of South Italy's viticultural empire. The local Bombino Bianco grape is capable of producing affable white wines with a citrus hint, while in careful hands the Verdeca variety can fashion serious dry whites with concentrated tropical fruit flavors. The white-only DOC of Locorotondo is the main protagonist of Puglia, along with the lesser-known Gravina and Martina Franca DOCs.
It is the reds, however, that are grabbing the headlines, and Puglia has no shortage of superb raw material. In the north, the elegant tannins and restrained fruit of Uva di Troia craft refreshingly patrician wines in the DOC of Castel del Monte. Farther south into Italy's heel, the broad plain of the Salento Peninsula opens and the ubiquitous Negroamaro begins to hold sway. True to its name (it translates as "bitter black"), Negroamaro offers a wine with a lush palate of black fruit and a bittersweet sting in its tail that goes admirably with the local cuisine. Negroamaro reaches its apogee in Salice Salentino, Puglia's most productive DOC. It also provides the backbone for Brindisi, Copertino, and Squinzano, where it is often softened with a little Malvasia Nera (Red Malvasia), and Primitivo.
Although quite insignificant in terms of volume, Primitivo, a clone of California's Zinfandel, seems to have hijacked Negroamaro's lead-role status. The overt jamminess of Primitivo allied to its optional labeling as Zinfandel has led to a meteoric rise in its fortunes. The best wines are Primitivo di Manduria DOC and originate from mature, non-irrigated vines trained low to the ground. Primitivo is occasionally used to make dessert wine, although the rare Aleatico di Puglia DOC remains in pole position in this field. This DOC zone covers all of Puglia and is its greatest secret. Made in the passito style from red grapes of the same name, Aleatico vies with recioto for the title of Italy's greatest sweet red wine.
Since 1990, Puglia has divorced itself from a tradition of bulk production and actively sought to make the most of its huge potential. Along with Sicilia, it is unquestionably home to the most exciting recent vinous discoveries in all of Italy and now offers the consumer an unbeatable combination of quality and value.
The rise of the Mezzogiorno
The change in the fortunes of the Mezzogiorno (South Italy) during the past 10 years is largely due to overproduction within the EU. Faced with an ever-deepening wine lake, Brussels first banned all new plantings and then instigated numerous vine-pull programs. For the first time, producers in the south were forced to face the reality of either ripping up their vineyards or producing commercially viable wines. The region's quality pioneers—Planeta et al.—demonstrated not only that it was possible to produce less and still make a profit, but more importantly, that producing less was the only way to make a profit. Now there is an ever-increasing number of producers who are adapting to the new economic conditions. Making great wine is never easy, but making good wine could never be easier than it is in the viticultural paradise of the Mezzogiorno.
Campania
soil type: volcanic tuffeau and limestone overlaid with clay, alluvial soils in valleys
red grape variety: Piedirosso, Aglianico
white grape variety: Falanghina, Greco, Fiano, Biancolella
wine styles: red, white, rosé, sparkling, dessert

Monte vesuvio to the south of the regional capital, Napoli (Naples), produces a soil that is ideally suited to viticulture. Rich in both trace elements and minerals yet poor in organic matter, the area around the volcano has been credited with producing some of Italy's finest wines since Roman times. It is still home to the ubiquitous Lacryma Christi, a wine available in red, white, sparkling, dessert, and fortified versions under the Vesuvio DOC, and which continues to trade on its reputation in the trattorie of Naples.
Just inland lies the dilapidated hamlet of Taurasi, home to both the south's only red DOCG and one of its most aristocratic red grapes, Aglianico. Well-suited to prolonged aging and combining fine tannins with fresh acidity, Aglianico has all the hallmarks of a classic variety. The best examples need a decade to reach their peak, when they develop an intense, violet perfume reminiscent of Mourvèdre. Aglianico is in its element when consumed with the south's delicious sausages and salami.
The volcanic soil surrounding Vesuvio is equally suited to the cultivation of white grapes, and the principal varieties include Falanghina, Greco, and Fiano, in order of increasing quality. With 2,000 years to adapt to both soil and climate, these grapes eschew ponderous levels of alcohol and flabby acidity in favor of an elegant reflection of their terroir. They seldom achieve more than 12.5 percent alcohol and are often harvested well into October—extraordinarily late given the hot climate. Fortunately, producers recognize that the delicate flavors of pear, quince, and dried apple are shown to best effect when untouched by oak. Principal DOCGs include Fiano d'Avellino and Greco di Tufo, both nestled in gently rolling hills.
The unassuming Falanghina, a grape that barely merits a mention in the environs of Taurasi, has been elevated to cult status; largely through the efforts of two producers in the obscure DOC of Falerno del Massico. Praise from all corners continues to be heaped upon the honeyed richness of Falanghina emanating from this forgotten corner of Campania. Red Falerno, blended from Aglianico and the local Piedirosso, has also been commended for its sappy red fruit.
Piedirosso is also planted on Ischia, an island in the bay of Naples. In its day, Ischia rivaled Capri as a vacation destination, and it retains an air of verdant serenity. No doubt due in part to happy vacation memories, Ischia DOC wines have developed a certain following perhaps disproportionate to their quality. Nevertheless, against a backdrop of a Mediterranean sunset, few could deny the simple pleasure of a glass of either the local cherry-scented Piedirosso or the equally unfamiliar white Biancolella, with its light, citrus charms. The d'Ambra estate dominates production here.
Lesser-known Campanian DOCs include Sannio and Taburno, both sandwiched between Falerno and Avellino. Production here is dominated by the cooperatives, but improvements are now beginning to make a noticeable impact. Just to the north of Naples, in a curious mix of vineyards and industrial estates, is the Campi Flegrei DOC. That wines from here remain deeply unfashionable is a great shame, since they offer an affordable introduction to the pleasures of Campania's native grapes.
Basilicata
soil type: clay, volcanic on Monte Vulture
red grape variety: Aglianico
wine styles: red

Nestled in the instep of Italy's boot shape, between Puglia, Campania, and Calabria, the area of Basilicata is home to just one DOC, Aglianico del Vulture. In contrast with Puglia, the vineyards here extend to more than 2,000 ft (600 m) above sea level and produce correspondingly fresh, structured reds made from the Aglianico grape. While never hitting the heights of Taurasi (also made from the intense Aglianico variety), good Aglianico del Vulture offers excellent value for money.
Origins of wine
Italy must thank both the Etruscans and the Greeks for its more than 2,500 years of uninterrupted wine production. The Etruscans landed north of Rome and went on to settle most of modern-day Tuscany, while the Greeks colonized Puglia first, before capturing Sicilia from the Phoenicians. So impressed were they with how the vines they established took to their new home that they christened Italy Enotria, or "Land of the Vine." Greco, a grape still widely planted in both Campania and Sicilia, is of Greek origin and would have been vinified at that time in earthenware pots to make a cloudy wine for early drinking. Extended storage was a Roman invention, and adding seawater as a preservative was a Greek one. The Greeks trained their vines close to the ground to retain moisture, and most vineyards in the south are still trained in this way. The legacy of the Greeks in Italy is far-reaching, and it is easy to underestimate the impact that the vine has had on the country's agriculture, economy, and people. Today, more than a million Italians are directly involved in wine production.
Calabria
soil type: clay, sand, and marl
red grape variety: Gaglioppo, Nerello Mascalese
white grape variety: Greco
wine styles: red, white, rosé

Calabria appears to have derived little benefit from the flood of financial assistance pouring into South Italy. The region's best-known DOCs cling to both coasts—Melissa and Cirò to the south, and Savuto (for reds only) and Scavigna to the north. The rustic and somewhat uncouth Gaglioppo is the driving force behind the dusty, tannic reds, although the Sicilian Nerello (mainly Nerello Mascalese but also Nerello Cappuccio) makes an occasional guest appearance. The whites rely on Greco, but those accustomed to Campania's world-class examples will be disappointed by Calabria's efforts. Greco from Calabria remains a distant cousin and is best enjoyed by the pitcher with the local seafood.