Southern France - Wine Map of Southern France
[Do Not Use]DK Publishing
2/07/2014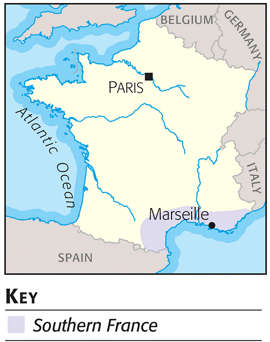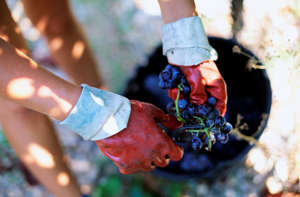 Wine Map of Southern France

Bordered to the south by the Mediterranean and to the north by the foothills of the southern Alps and the Massif Central, southern France is essentially one huge vineyard. To the east, Provence has some 26,000 ha under vine, mostly in appellation Côtes de Provence. Moving west, the vineyards flow across the Rhône delta through Costières de Nîmes and on into the Languedoc and then Roussillon, which together are home to around 300,000 ha of vines. Corbières is the appellation with the largest land area, but Coteaux du Languedoc is the most important in terms of wine production.
Languedoc-Roussillon: Areas & top producersCoteaux du Languedoc
Domaine d'Aupilhac
Domaine Canet-Valette
Domaine Peyre Rose
Mas Bruguière
Mas Jullien
Prieuré de St-Jean de Bébian
Côtes du Roussillon & Côtes du Roussillon villages
Domaine du Clos des Fées
Domaine Gauby
Banyuls & Collioure
Domaine de la Rectorie
Domaine du Mas Blanc
Vin de Pays
Mas de Daumas Gassac
Provence: Areas & top producersCôtes de Provence
Château de Roquefort
Domaine Richeaume
Bandol
Château de Pibarnon
Château Pradeaux
Domaine Tempier
Cassis
Clos Ste Magdeleine
Palette
Château Simone
Vin de Pays
Domaine de Trévallon
Perfect case: South of FranceTerroir at a glanceLatitude:
42.5°–44°N.
Altitude:
0–500 m.
Topography:
Varies from mountain ranges to flat, arid coastal plains. Languedoc hill sites are often sparse, rocky scrubland with some dense, bush-covered maquis.
Soil:
Rich alluvial soils in the valleys; schist and limestone on the hillsides.
Climate:
Mediterranean. Hot, dry summers and mainly winter rain.
Temperature:
Although the July average is 72°F (22°C), highs are often above 86°F (30°C) in summer. Temperatures on the coast are more extreme than those inland, and hill sites experience the greatest variation between daytime and nighttime temperatures.
Rainfall:
Annual average is 500–700 mm. In the west of the region, the Atlantic influence means rainfall is slightly higher.
Wind:
Northerly winds known locally as the cers and tramontane, along with the mistral, accentuate the dry climate and help to prevent rot. Sea breezes can moderate temperatures near the coast.
Viticultural hazards:
Storms; humidity; weather fluctuation.
Vin de Pays
Languedoc-Roussillon is the most important producer of vin de pays (VDP) in France, making 80 percent of the total. Much of it is labeled under the regional denomination Vin de Pays d'Oc, the rest under the names of local districts. VDP rules are less stringent than AOC, allowing producers to make varietal wines from non-traditional grapes, and to blend native and international varieties for fine wines. VDP status offers producers greater recognition than the basic vin de table status.