Spain - Wine Map of Northern Spain
[Do Not Use]DK Publishing
2/07/2014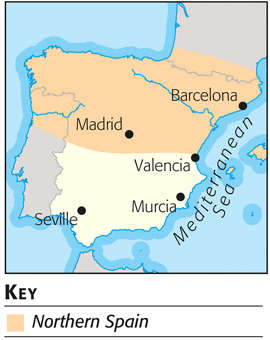 Vineyards and church in La Rioja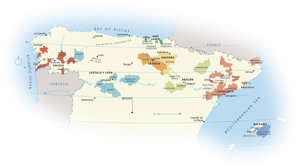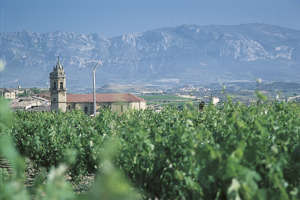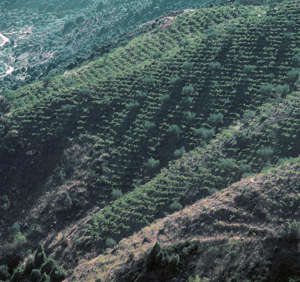 Durius Alto Duero vineyards in Castilla y León, Northwest Spain
Wine Map of Northern Spain

The majority of Spain's finest wines come from the northern half of the country, where the mountainous landscape provides cool vineyard sites even in the hottest of summers. The most significant wine areas are along the banks of Spain's two most important wine rivers: the Duero and the Ebro. The Duero flows west through the winelands of Castilla y León—most famously, Ribera del Duero—while the Ebro flows southeast through the well-known regions of La Rioja and Navarra and on to Aragón and Catalunya.
Northwest Spain: Areas & top producersGalicia
Fillaboa
Martín Códax
Castilla y León
Aalto
Abadía Retuerta
Alejandro Fernández
Álvarez y Díez
Castilla la Vieja
Descendientes de J Palacios
Durius Alto Duero
Emilio Moro
Fariña
Hacienda Monasterio
Marqués de Riscal
Mauro
Maurodos
Valdelosfrailes
Vega Sicilia
Viña Bajoz
Northeast Spain: Areas & top producersLa Rioja
Berberana
Bodegas Marqués de Murrieta
Contino
CVNE
La Rioja Alta
Marqués de Cáceres
Marqués de Riscal
Navarra
Bodegas Guelbenzu
Bodegas Julián Chivite
Bodegas Ochoa
Aragón
Blecua
Bodega Pirineos
Bodegas San Alejandro
Covinca
Viñas del Vero
Catalunya
Álvaro Palacios
Agustí Torelló
Celler de Capçanes
Clos Mogador
Codorníu
Europvin Falset
Freixenet
Raïmat
Torres
Terroir at a glanceLatitude:
41–43.5°N.
Altitude:
Varies from 0 to 2,600 m; vineyards are at sea level along the Catalan coast, in the low-lands in Aragón and Navarra, and in the highlands in other areas of Navarra, La Rioja, Penedès, and Ribera del Duero.
Topography:
The Cordillera Cantábrica mountain range dominates the north.
Soil:
Mainly limestone, mixed with sandstone or calcareous clay.
Climate:
Varies from temperate Atlantic influences north of the Cordillera Cantábrica to more continental south of these mountains. Lowlands are hot and dry, with semi-arid spots, while the highlands of Ribera del Duero, La Rioja, and Navarra are cooler. Heading east, the climate becomes more Mediterranean, with complex mesoclimates in the highlands of Catalunya and humid and temperate areas towards the coast.
Temperature:
July avg. 72°F (22°C).
Rainfall:
Annual average is 1,200 mm.
Viticultural hazards:
Frost in highlands of La Rioja, Navarra, and Aragón; rain and wind at harvest time in Galicia and País Vasco; fungal infections in Catalunya.