Spain - Winegrowing Areas of Central & Southern Spain
[Do Not Use]DK Publishing
2/07/2014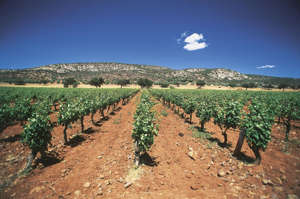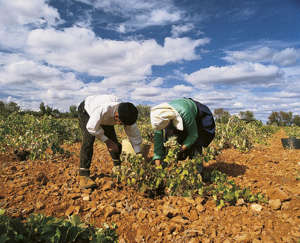 Harvesting Airén grapes in La Mancha
Harvesting Palomino grapes in Andalucía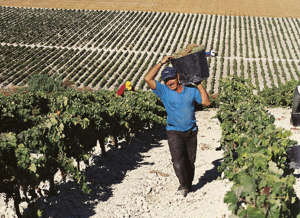 Vines in sandy clay, Valdepeñas, Castilla-La Mancha
Winegrowing Areas of Central & Southern Spain

Central Spain
In the vast area that lies between Madrid and the Andaluz border, there are 15 DO zones plus two Pago (single estate) DOs. Over the past two decades, the bodegas here—especially in La Mancha DO—have been working steadily to improve quality. The best have proved beyond doubt that Central Spain is an area capable of producing world-class wines.
Madrid & Extremadura
soil type: sandy clay over limestone and chalk
red grape variety: Tempranillo, Monastrell, Bobal
red grape variety: Airén, Merseguera
wine styles: red, white

The area south of Madrid and continuing south and west toward the Portuguese border falls in Vinos de Madrid DO, which tends to grow Malvar for white wines and Garnacha for reds. While there is now some experimentation with more exotic varieties, nothing of any real merit has yet been produced here. To the west, Extremadura's Ribera del Guadiana DO is, on the other hand, an area to watch. Since its creation in 2001, a couple of producers have made investments here and have been able to make inroads into export markets.
Castilla-La Mancha
soil type: red-brown sandy clay, some limestone/chalk
red grape variety: Tempranillo, Garnacha, Monastrell
white grape variety: Airén, Macabeo
wine styles: red, white

This vast region, sprawling to the south-southwest of Madrid, has enormous viticultural potential. Vast quantities of wine are produced here, but of its seven DOs, only La Mancha and Valdepeñas are producing large quantities of fine wine. La Mancha was long regarded as a source of cheap wine for the capital, but low land prices in the 1970s attracted massive investment. So, while the area is still producing simple, good-value wines, there are also a number of bodegas turning out some superlative examples. The main grape here is Tempranillo (known locally as Cencibel), which is spicy, rich, and redolent of summer fruit. Complex Tempranillo-based reds, sometimes with a dash of Cabernet Sauvignon or even Syrah, are judiciously aged in cask. The main white grape in La Mancha is Spain's most planted white variety, Airén, which is light, fresh, and aromatic. To the south of La Mancha, in the dry, hot enclave of Valdepeñas at the edge of the meseta (plateau), the main grape is Tempranillo and the wine style is very much oaky and mature, with rich fruit. This is one of Spain's best-value DO zones, where prices are usually ridiculously low and the latest technology has often yielded fantastic results.
The other five DOs are: Almansa, which has the occasional star producer; Méntrida, struggling, with quite a way to go; Manchuela, created in 2000 and starting to show promise; Mondéjar, promoted to DO status in 1997 and on the rise; and Ribera del Júcar, set up in 2003 as a result of some promising work and producing interesting results. The Pago DOs of Dominio de Valdepusa and Finca Élez are two leading wineries located outside any existing DO boundary that have each been awarded their own single-estate DO.
Valencia & Murcia
soil type: red-brown soil over limestone, some clay
red grape variety: Tempranillo, Garnacha
red grape variety: Merseguera, Malvasía
wine styles: red, white

This region (also known as the Levant) has six DO zones, but fine wines are scarce. The emphasis has always been on export (with quantity winning over quality), and many supermarkets around the world will have something cheap and cheerful from this area simply labeled as "Spanish white" or "Spanish red." One of the three DO zones in Valencia, Alacant (Alicante) grows Merseguera for white wines as well as Monastrell grapes for heavy reds. These are good, wholesome wines, if not very exciting. The vineyards of Utiel-Requena DO show slightly more promise due to the altitude (up to 2,600 ft/800 m), which gives more flexibility to the winemakers. There seems to be potential here for some excellent wines made from the native red grape Bobal, formerly thought fit only for bulk wines. The Valencia DO, too, produces reds and whites (Monastrell and Merseguera) for the masses, immaculately made and at bargain prices. There is also an enthusiastic market for the local sweet wine—the often stellar Moscatel de Valencia.
Murcia's three DO zones all make wines in a style similar to those of neighboring Valencia, primarily growing Monastrell for reds and Merseguera or Macabeo for whites. Jumilla is the region that successfully rehabilitated the Monastrell grape and has a few star producers such as Agapito Rico, while Yecla is a one-town DO with the occasional standout bodega. To the southwest, Bullas is Murcia's most recent DO (1994) and has yet to show exactly where it is going.
Southern Spain
Andalucía is where winemaking in Spain, and indeed in western Europe, began around 500 BC. The wines were robust, strong, and sweet, and they evolved into what is now known as sherry. Today, sherry and its sister wines from Montilla and Málaga are still being made, but the region is also beginning to produce impressive red and white wines, especially in cooler mountain highlands .
Andalucía's heights
In the deep south, where wines have traditionally been fortified, altitude is the new attitude: the higher up you get from the scorched lowlands, the better it is for viticulture. Some shrewd investors have consequently started to buy land here for the production of non-fortified wines. Work in the Alpujarras vineyards (at over 5,00 ft/1,500 m, the highest in mainland Europe) is showing that Garnacha and Tempranillo can be grown in Andalucía without over-ripening. Elsewhere in the Sierra Nevada, Señorío de Nevada (902 300 028), an estate in Villamena, is successfully growing Syrah and Merlot. In Ronda, to the west, even an altitude of 2,500 ft (750 m) facilitates fascinating experiments with Tempranillo and Petit Verdot . Judging by the results so far, other producers and investors will doubtless soon follow up the mountainsides to higher altitudes.
Andalucía
soil type: sand or clay over limestone, very chalky in the west
white grape variety: Palomino, Pedro Ximénez
wine styles: fortified

Andalucía is the home of sherry, a wine unique in the world both for the way it is made and its numerous styles . Since the mid-1990s, the term "sherry," formerly a generic term for a range of fortified wines, can, within the EU, only be applied to wines produced in the Jerez DO. These range from the palest, most delicate manzanilla, drunk as a strong white wine and best accompanied by local seafood, to opaque, midnight-black, and richly sweet Pedro Ximénez. Most sherry is made with the Palomino grape, which thrives in the very chalky albariza soils of the vineyards around the three sherry towns: Jerez de la Frontera in the center, and Puerta de Santa María and Sanlúcar de Barrameda on the coast.
Montilla-Moriles' best wines are made exactly like sherry: in fact, Montilla lends its name to amontillado sherry for the resemblance between the two wines. However, here the base grape is Pedro Ximénez rather than Palomino, and Montilla wines are naturally strong and may be unfortified, whereas sherry is always fortified. Montilla wines come in "dry," "medium," and "cream" styles as well and are a cheaper alternative to sherry. The Condado de Huelva DO lies between Jerez and the Portuguese border, and makes fortified wines from the local Zalema grape, while farther east, Málaga DO is known for its lovely, dark, toffee-caramel-flavored fortified wine from Pedro Ximénez. Sadly, land in Málaga is more valuable for vacation homes than for vines, and the area given over to vineyards is shrinking.
Canarias (Canary Islands)
soil type: volcanic
red grape variety: Listán Negro, Negramoll
white grape variety: Pedro Ximénez, Malvasia, Moscatel, Verdello, Bijariego
wine styles: red, white, dessert

There are no fewer than 10 DO zones in the Canarias, scattered across all the islands with the exception of Fuerteventura. However, only two produce enough wine to tap into the export market. Tacoronte-Acentejo (Tenerife) is the oldest and most important DO zone on the islands, making warm, robust reds and fresh, clean whites with the local Listán Negro and Gual grapes, as well as classic sweet whites from Malvasía. The reds have most potential—at their best they have a rich, perfumed style and can age well in oak.
Lanzarote DO, where the vines are planted in pits carved out of the lava bedrock, is the home of the ancient, sweet white wines known in Shakespeare's time as "Canary Sack" and made from Malvasía and Moscatel. Though producers now make more mainstream reds and whites, the sweet wines are still produced, and can be superb—delicately perfumed and gently sweet with a freshness that prevents cloying. The other DOs are of little significance, although their wines are widely enjoyed locally. Most of them make reds and whites from the local Listán Negro and Malvasía, and some grow grapes such as Bujariego (Vijariego) and Gual—long extinct on the mainland.