Spain - Winegrowing Areas of Northwest Spain
[Do Not Use]DK Publishing
2/07/2014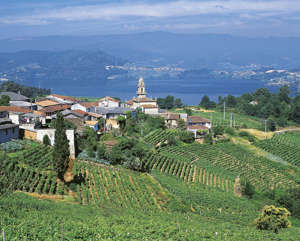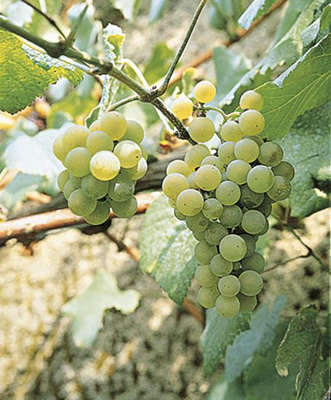 Vineyards above the Miño River in Ribeiro, Galicia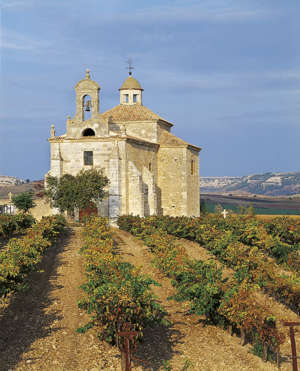 Vineyard in Ribera del Duero, Castilla y León
Winegrowing Areas of Northwest Spain

Northwest Spain has just two wine regions, both of which are rapidly growing in importance. In the cool northwest corner, the region of Galicia produces some of the country's freshest and most delightful white wines. The dry interior of the vast area of Castilla y León, meanwhile, is home to the internationally known Ribera del Duero DO, which is currently witnessing the seemingly unstoppable rise of its blockbuster reds.
Galicia
soil type: alluvial, granite, and slate
red grape variety: Mencía
white grape variety: Albariño, Godello
wine styles: red, white

With its deep river valleys, soaring granite peaks, and secluded coastal coves, this region lying to the north of Portugal is among the most beautiful in Spain. Conditions are ideal for the production of fresh, dry, fruity, white wines due to the cool, wet climate and versatile granite soils. The most important whites are made from the Albariño grape.
Of the region's five DO zones, Rías Baixas produces the Galician wine most likely to feature in export markets, though small-scale production tends to make it rather expensive. Rías Baixas' best wines are 100 percent Albariño. The vineyards tend to be small parcels of land dotted around the steep slopes of the river valleys, with the vines usually trained on arbors so that the grapes hang below a blanket of leaves, protecting them from the sun and preventing over-ripeness. This also has the benefit of keeping them clear of the soil: with 63 in (1,600 mm) of rain each year, damp can be a problem.
While Rías Baixas is the most prominent DO, the others have their own strengths and are starting to make inroads into international markets. Ribeiro is centered on the lovely town of Ribadávia on the Miño River, and is the next most important. It too makes very good white wines, the best principally from the Godello grape, which is not quite as peachy as Albariño, but has a delicate, herby scent nonetheless. Excellent Godello also originates from Valdeorras, which together with Ribeiro is the oldest established Galician DO. The area lies alongside the Sil River in the east of the region, and it is also responsible for some worthwhile light reds made from Mencía. Ribeira Sacra is a tiny region around the town of Monforte de Lemos where grape varieties Albariño, Loureira, and Godello are grown for aromatic whites, and Mencía for delicate reds. Around the town of Verín, Monterrei is the smallest Galician DO, making wines similar to those of Ribeira Sacra.
Albariño: A rising star
The lip-smackingly crisp fruit, peachy aromas, and wonderful zest of Albariño make it the perfect accompaniment to Galician seafood. This distinctive grape is claimed by both Galicia and Portugal (where it is known as Alvarinho) but there are those—Miguel Torres among them—who believe that Albariño is actually the Riesling grape, brought by German monks along the Camino de Santiago in the 11th century. Whatever its provenance, Albariño is responsible for one of Spain's—and the world's—truly great white wines.
Castilla y León
soil type: alluvial, limestone, chalk
red grape variety: Tempranillo
white grape variety: Verdejo, Sauvignon Blanc
wine styles: red, white

The ancient heartland of Castilian Spain is a land of cathedrals, monuments, and castles—the legacy of the nobles and government officials who lived here, and for whom Castilla y León's big red wines were originally produced. It is a very large area (covering almost one-fifth of the country), sheltered from the excesses of the Atlantic climate by the mountains of León. The area has some impressive peaks, and some of the best vineyard sites benefit from altitudes over 2,600 ft (800 m), resulting in long hot days in the ripening season combined with cool nights to "rest" the vines. Wine production here was generally fairly basic (with a few notable exceptions) until the 1980s, when Ribera del Duero won its DO status and started to make its presence felt.
Ribera del Duero is unquestionably the most important of Castilla y León's five DO zones, and its most famous wine, Vega Sicilia, has proved since the mid-19th century that it is possible to make world-class red wines in this area. However, despite being granted DO status in 1982, it was only in 1989 that its wines began to be noticed internationally. Suddenly, everybody wanted a piece of the action and land prices shot up—and are continuing to do so. Its main advantages are altitude (up to 3,000 ft/900 m) and chalk-rich soils over schistous bedrock. Vineyards tend to be 100 percent Tempranillo (here called Tinto Fino or Tinto del País), though a little Cabernet Sauvignon is also grown. The wines are bold, powerful, full of fruit, and have impressive aging qualities. At their best, they are among Spain's very finest—with prices to match.
Rueda is Castilla y León's most important DO for white wines: in fact, these wines challenge the Albariños of Rías Baixas for the title of Spain's finest whites. Since the late 1970s, there has been an upsurge in fresh, delicate, fruity, crisp, dry whites made from the local Verdejo grape and, since the 1980s, Sauvignon Blanc. Rueda's reds (mainly Tempranillo) can also be strikingly good, although they are not in the blockbuster style of Ribera del Duero.
The three remaining DO zones are less well-known outside Spain, but this is set to change. Slightly lower in altitude than Ribera del Duero (at 2,100–2,700 ft/650–830 m), Toro has a hotter climate and ripens Tempranillo (here known as Tinta de Toro) to considerable strengths—up to 15 percent potential alcohol in some cases. It is famed for its big red wines, which have tremendous heat, power, and richness. Many of the major producers from more expensive Ribera del Duero are buying land here, and Toro is likely to be the next big thing in Castilian wine. Cigales will probably follow: the grape is the same, the style is similar, the altitude on a par, and it has a very stony soil, which some growers think can be perfect for ripening Tempranillo. Bierzo, in the far north, mainly specializes in light reds made from Mencía, and is another region that may have much to offer in the future.