Spring - Radishes
[Do Not Use]DK Publishing
2/07/2014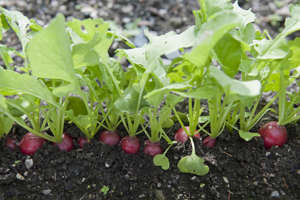 Radishes

When to pick
Radishes can be ready to harvest within 4 weeks of planting. The larger they grow, the hotter they taste. Pick them small, firm, and before they turn woody.
Eat and store fresh
Best eaten washed and trimmed, the day they are picked. Store in a fridge for up to 3 days, and refresh in cold water before eating, to crisp them up.
How to preserve
Radishes can be used as an ingredient in pickles and relishes.