Spring - Swiss chard
[Do Not Use]DK Publishing
2/07/2014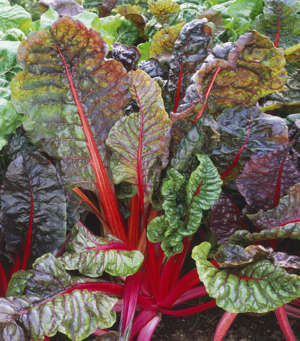 Swiss chard

Swiss chard is a marvelous plant that will reward you with months of green leaves once established. In recipes it can be substituted for spinach, but remove the tough central ribs.
When to pick
Pick Swiss chard at any stage: the tiny leaves can be used raw, the bigger ones cooked. Cut the leaves 3/4–11/4in (2– 3cm) above the base to encourage regrowth.
Eat and store fresh
Baby chard is best eaten immediately if used raw in a salad. Bigger leaves can be rinsed, dried, and kept in a plastic bag in the fridge for up to 3 days.
Freezing options
Rinse and shred the leaves, blanch for 1–2 minutes, cool in ice water, squeeze out excess water and freeze for up to 12 months.