Steaks, Chops, and Ribs - Flavor Footprint - Mexican-Latin
[Do Not Use]DK Publishing
2/07/2014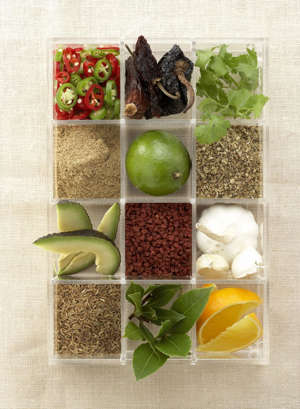 Signature ingredients - Top row (left to right): fresh chiles, dried chiles, cilantro; second row: coriander, lime, oregano; third row: avocado, annatto seeds, garlic; bottom row: cumin, bay leaves, orange.
Flavor Footprint - Mexican-Latin
A prime characteristic of Mexican cooking is the expert and varied use of a huge range of chiles, both fresh and dried. This distinguishes it from many other Latin American cuisines, which are not particularly spicy. But most do share a reliance on the herbs cilantro (or culantro, a local variant) and oregano, the spices cumin and bay, the juice of oranges and limes, and large quantities of garlic, among other ingredients. If you're unfamiliar with the dynamic cuisines of Latin America, the complex flavors of these simple combinations are going to bring you very pleasant surprises.