Summer - Apricots
[Do Not Use]DK Publishing
2/07/2014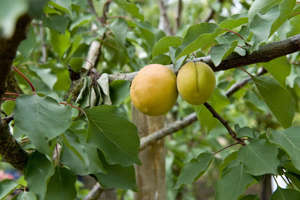 Apricots

When to pick
Pick apricots when they have a deep color and a sweet fragrance. They should come away easily from the branch. Do not allow them to become too soft.
Eat and store fresh
Keep at room temperature and eat within 2–3 days of harvesting if eating raw. If cooking, they can be kept for 3–5 days in the fridge.
How to preserve
Apricots make delicious jams and jellies. Their low pectin content can be offset by adding some of the kernels, cracked and wrapped in muslin, to the pan to aid setting.
Freezing options
Pit, slice, and open freeze on trays, as a cooked or uncooked purée, as a freezer jam, or blanched or poached in sugar syrup .