Summer - Peppers
[Do Not Use]DK Publishing
2/07/2014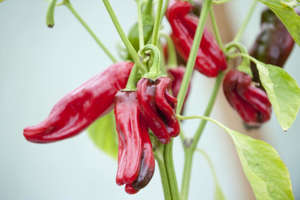 Peppers

When to pick
You can harvest peppers when they are still under-ripe (green), nearly ripe (yellow), or ripe (red). Generally the riper the pepper the sweeter the taste.
Eat and store fresh
Raw red peppers taste their best if eaten immediately, but all types of peppers will store well in the bottom of the fridge for up to 5 days.
How to preserve
Chutneys, pickles, and relishes are all good ways of preserving peppers. Char-grilling or roasting, or peeling and preserving in oil is another option.
Freezing options
Peppers can be frozen if they are first griddled, then cooled, and stored in batches for up to 6 months. They also make good freezer pickles.