Summer - Red Currants
[Do Not Use]DK Publishing
2/07/2014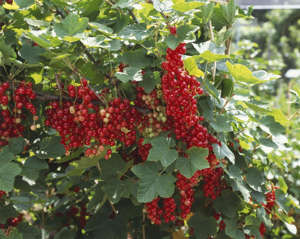 Red Currants

When to pick
Red currants ripen on the bush after they turn red, so always taste before picking; they should taste sharp, almost sour, and look slightly translucent.
Eat and store fresh
Eat raw in a mixed summer fruit salad, as soon as possible after picking. They will keep for up to 3 days in the fridge before cooking.
How to preserve
Serve red currant jelly with lamb or game, and stir into gravies and stews for sweetness. Red currants can also be bottled and used in cordials and syrups.
Freezing options
Open freeze whole on trays, as a cooked or uncooked purée, as a freezer jam, or blanched or poached in sugar syrup .