Sweet Herbs - Marigold - Calendula officinalis and Tagetes species
[Do Not Use]DK Publishing
2/07/2014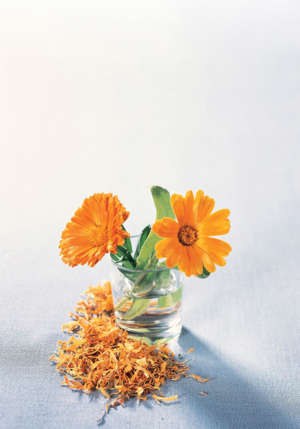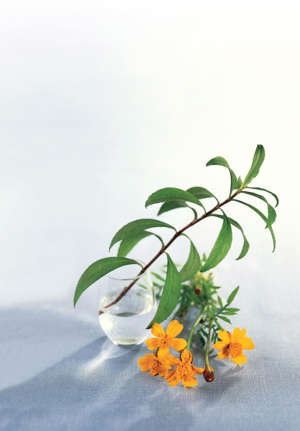 Marigold - Calendula officinalis and Tagetes species
Marigolds are used in many different ways. The dried, ground petals of pot marigold (C. officinalis) and French marigold (T. patula) are prized in the Georgian republic; in Mexico and the southern US, Mexican mint marigold (T. lucida) is used as a tarragon substitute; in Peru, huacatay (T. minuta) is an essential flavoring; in Europe, fresh petals are used as a garnish and in salads.
Culinary uses
Apart from adding a lively note to salads, marigold petals have long been used to color food and give it a slightly pungent flavor. Fresh petals can be added to cookies and small cakes, to custards, savory butters, and soups. Dried petals were often used to adulterate saffron; they can be used as an inexpensive substitute for coloring rice.
In the Republic of Georgia, dried marigold petals are an essential flavoring, used in spice mixtures and with other aromatic staples (chili peppers, garlic, walnuts). Georgians prefer the French marigold, and the flavor blends particularly well with cinnamon and cloves. They call it Imeretian saffron after the province of Imereti, where the dried petals are highly appreciated.
Mint marigold leaves are used with other indigenous American foods – avocado, corn, squash, tomatoes – as well as with fish, chicken, and other foods that marry well with tarragon. They also combine well with melon, summer berries, and stone fruits.
Huacatay, also called black mint, is strongly aromatic with citrus and eucalypt notes and a bitter aftertaste. It is hard to find fresh outside South America, but is sold as a paste in jars in the US. Use with chili peppers to season grilled meats, soups, and stews.
Tasting notes
Pot marigolds have a sweet, resin-like aroma, French marigolds a distinctive muskiness with light citrus notes that reminds me of coriander seed. Fresh marigold petals have a delicate, aromatic bitterness and earthy taste. The leaves are slightly peppery.
Parts used
Fresh and dried petals, fresh young leaves.
Buying and storing
Marigold petals can be dried in a low oven and then ground. Dried pot marigold petals can be bought from some herb and spice suppliers; dried marigold powder is less easily found. Store dried marigold petals and powder in airtight containers. The leaves of Mexican mint marigold will keep for a day or two in a plastic bag in the refrigerator.
Grow your own
Marigolds thrive in any soil, but do best in a sunny position. Picking the flowers prolongs flowering, but if a plant goes to seed it will readily self-seed. Pot and French marigolds are annuals. Mexican mint marigold is a perennial, but should be taken indoors to overwinter where not hardy.
Pot marigold - C. officinalis
This marigold is a long-lived annual with pale green, lance-shaped leaves and single or double flowers. The petals and young leaves should be used immediately after picking.
Dried petals
Dried pot marigold petals from the Republic of Georgia have a sweet, musky aroma with hints of citrus peel.
Mexican mint marigold - T. lucida
The long, narrow leaves of Mexican mint marigold smell more of anise than mint, with light notes of hay and some spicy warmth. The plant's other common names, winter or Mexican tarragon, refer to its tarragon-like taste.
French marigold - T. patula
This marigold species is a bushy annual with divided, toothed leaves and flat single or frilly double flowers that vary in color from yellow to deep orange.