Techniques - Preparing Legumes
[Do Not Use]DK Publishing
2/07/2014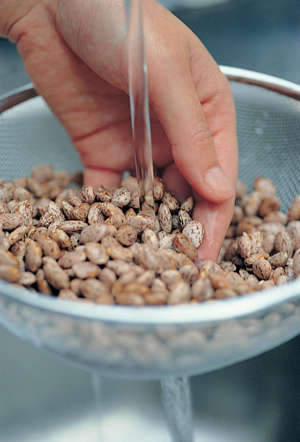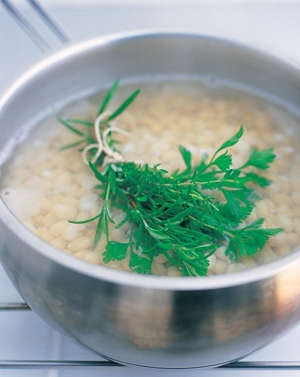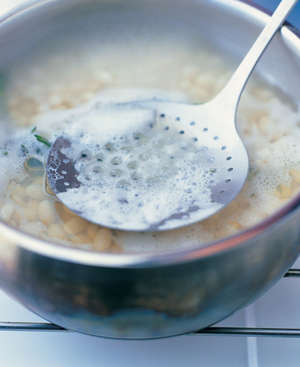 Preparing Legumes

Dried beans, peas, and lentils are perfect for soup-making. Little effort is required to prepare them—all you need to do is think ahead.
The basic preparation of legumes is simple: first, you need to sort and rinse them; then (in nearly all cases) you need to soak them; finally, the legumes have to be cooked until tender. This can take anywhere from around half an hour to 3 hours. Once cooked, legumes are well-suited to puréeing, but they also work well left whole in soups.
Sorting and rinsing
Whatever kind of legume you're using, start by sorting and rinsing them. Place the legumes in a colander and carefully pick out any husks or pieces of grit, then rinse the legumes well under cold running water.
Soaking
Apart from lentils and split peas, all legumes need to be soaked for at least 8 hours, and preferably overnight. Place them in a bowl, add three times their volume of cold water, then cover and place in the refrigerator.
Adding flavor
The flavor of legumes can be rather bland, so it's usually a good idea to add some aromatics. A bouquet garni or a sprig of herbs will do the trick: bay leaves, parsley, rosemary, or thyme all work well. A pinch of cumin, cilantro, hot red pepper flakes, or caraway is another option, but you could also pop a carrot into the pan or an onion studded with cloves. Alternatively, you can cook legumes in a well-seasoned stock, but never season it with salt—it will prevent them from softening.
Cooking legumes
Drain the soaked legumes, then place them in a large pan along with any seasonings. Pour in four times their volume of cold water and add 1 tbsp vegetable oil to keep them from sticking. Bring rapidly to a boil, and boil hard for 10 minutes, skimming away any foam with a slotted spoon. Lower the heat, partially cover with a lid, and simmer until tender. The cooking time will depend on the variety of legume.