The Loire Valley - Wine Map of the Loire Valley
[Do Not Use]DK Publishing
2/07/2014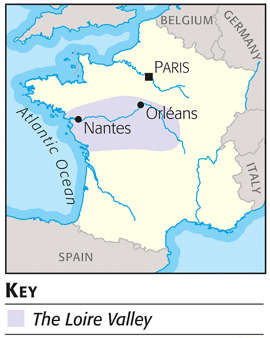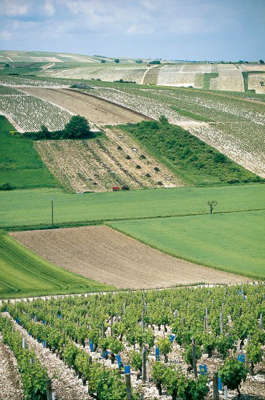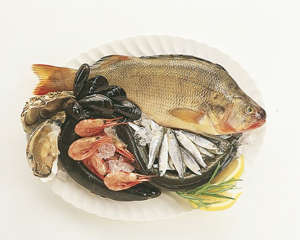 Sauvignon Blanc vineyards in Sancerre
Wine Map of the Loire Valley

The northern section of the Loire River from the Atlantic Ocean east to Pouilly-sur-Loire in central France provides the focus for Loire wines. It can be broken down into four segments, each with its own distinct wines. The Pays Nantais on the Atlantic seaboard is home to Muscadet. Moving east, Anjou-Saumur produces luscious sweet wines (Coteaux du Layon) and long-aging Chenin Blanc (Savennières). Touraine boasts the best Loire reds (Chinon, Bourgueil, and St-Nicolas-de-Bourgueil) and sweet forms of Chenin Blanc (Vouvray and Montlouis). The Central Loire is the hub for Sauvignon Blanc (Sancerre and Pouilly-Fumé).
Loire valley: Areas & top producersPays Nantais
Domaine de l'Écu
Anjou-Saumur
Château de Villeneuve
Château Pierre Bise
Clos Rougeard
Coulée de Serrant
Domaine des Baumard
Domaine Patrick Baudouin
Touraine
Domaine Bernard Baudry
Domaine de la Taille aux Loups
Domaine du Clos Naudin
Domaine Henry Marionnet
Domaine Huet
Domaine Philippe Alliet
Domaine Yannick Amirault
Central Loire
Château de Tracy
Domaine Alphonse Mellot
Domaine Didier Dagueneau
Domaine Henri Bourgeois
Perfect case: The Loire ValleyTerroir at a glanceLatitude:
47–48°N.
Altitude:
0–350 m.
Topography:
The Loire River creates one long valley from west to east. The area is relatively flat with some hilly countryside in Anjou-Saumur and Touraine, where the Loire's tributaries create river valleys with gentle slopes. In the east, Sancerre is on a hill at 300 m.
Soil:
Schist, granite, gneiss, sand in the Pays Nantais; slate, schist, sandstone, tuffeau (limestone) in Anjou-Saumur; sand, clay, gravel, tuffeau in Touraine; kimmeridgian limestone soils similar to those of Chablis in the Central Loire.
Climate:
Generally cool and temperate. A maritime influence prevails on the Atlantic seaboard and persists in varying degrees inland as far as Orléans. In the Central Loire the climate is more continental.
Temperature:
July avg. 66°F (19°C).
Rainfall:
Annual average is 750 mm.
Viticultural hazards:
Spring frost.
Food & wine pairing in the Loire
Known as the "garden of France," the Loire has a solid gastronomic tradition based on local produce. The wines provide an equally original and varied palette, with just about every conceivable style available. There are many tantalizing food and wine combinations. Oysters, mussels, and other shellfish from the Atlantic are perfect with a crisp, dry, tangy Muscadet. Asparagus, fried whitebait, chicken-liver mousse, or goat's cheese are the ideal partners to a clean, tangy Sancerre or Pouilly-Fumé. Poached river fish served in a creamy sauce—carp, pike, sandre (pike-perch)—pair well with a young, fruity red like Saumur-Champigny or the dry white Chenin Blanc-based wines of Vouvray and Savennières. Game dishes such as wild duck and pheasant are matched by the sufficient character of older vintages of red Chinon and Bourgueil. For dessert, what better than a homemade fruit tart with a sweet but tinglingly fresh Coteaux du Layon to round things off?