The Menus - The Menus
[Do Not Use]DK Publishing
2/07/2014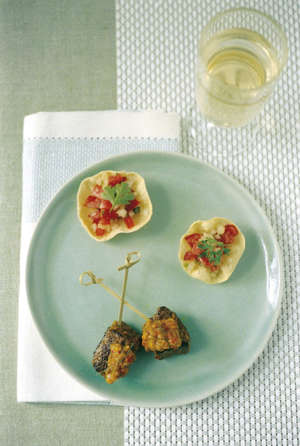 The Menus

Despite the enormous variety and diversity of street food from many countries, there are some common threads that run throughout. One of them is the communal nature of how the food is eaten. The food, the condiments, and the whole experience are shared by groups of friends and family-from eating some mezze in the Middle East to enjoying chaat in South India. People meet after work and before they head home, sharing contrasting dishes to create an intimate occasion. Alternatively, large groups can often be found eating en masse from the same stall.
I found one such example of this phenomenon in Salvador de Bahia in the northeast of Brazil. A dish with virtual cult status in this baroque city is acaraje. These delicious spicy bean patties are eaten late in the evening by hundreds of people at various stalls, before they all head out to party the night away in true Brazilian fashion. One particular stall that I visited was situated on the corner of a large square. There was seating for about 400 people in all, and the place was packed. The acaraje and their traditional accompaniments of salty dried prawns and hot and sour salad came from just that single stall. The surrounding cafés and bars were providing the beers, coconut juice, and other drinks, and at midnight the place was jumping. I had similar "mass-market" experiences of street food many times during my research for the guide. What these experiences of delicious food from all over the world showed me was the importance of sharing food with friends. The shared experience of street food, of passing plates and eating together, encourages personal connections, and I wanted to create a menu section to show how this could be done for different occasions. There are so many types and styles of street food that can be eaten at any time of the day or night. They will work for picnics, barbecues, or those occasions when you are serving food without plates, such as canapé and cocktail parties. Street food can be used for light lunches or cozy nights in, or for more formal dinner parties. Depending on the complexity of the event, there are dishes that can happily be used for each.
In this section, I have put together groups from the same region and also from further afield, but which use similar principles of cooking or may have some complementary or contrasting flavors. These menus are a simple guide, to show how a number of dishes can be combined to entice and satisfy your guests. I encourage you to be creative and experiment with your own choices for special meals to be shared with friends or family. Dipping into the bounty of delicious choices from different cuisines, and putting them in the context of entertaining at home, brings its own rewards and will satisfy both the appetite and the imagination.