The World Tour - The World Tour
[Do Not Use]DK Publishing
2/07/2014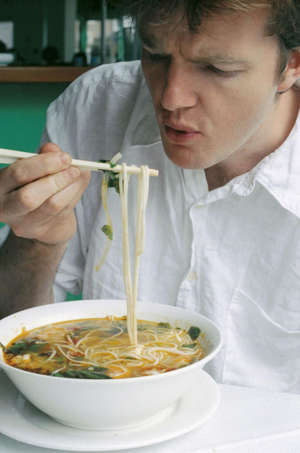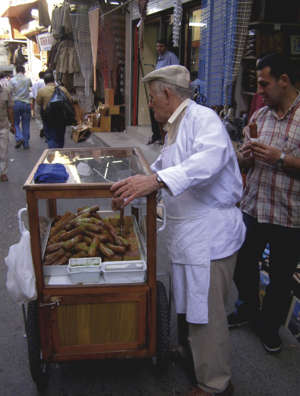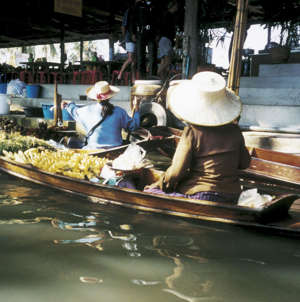 The World Tour

To get a feel for the beating heart of any community, and to begin to understand a culture different from your own, you need to experience the food. In countries and regions famous for their cuisine, it is impossible to separate food from society. The food of the place is the identity, history, and social context cementing everyone together. It is a point of reference, and is used in poetry, literature, and music, as well as all aspects of human interaction. The cuisine links religion to the people, with feast days and holidays, and periods of fasting and remembrance. Regional variations bind the people to the land and the changing seasons, connecting them to their roots and heritage. The bounteous provision of food also reflects perceived wealth, but more importantly the generosity of the individual and the community. In a country such as Vietnam, where there is little material wealth, I have never met a more generous people-willing to share their food and pass on their culinary secrets. I experienced this generosity in people's homes from Ecuador to Lebanon, from Vietnam to Malta.
The best way to experience the real food that fuels and drives a community, however, is to sample the street food. The food from roadside stands, markets, open-air stalls, carts and wagons, and small cafés and bars captures the essence of life in that culture. This food is available 24/7, not just prepared because there is a guest. It is real, robust, and a gauge of how people live and what values are important to the community. So how did I go about compiling a list of the best street food from at least five continents? Did I start with what I knew or what there was yet to discover? These were just two of the questions I asked myself in the initial stages of this guide that was to take me to over 15 countries before my street food journey was completed.
I had already traveled extensively in Southeast Asia, so the food was familiar and the backbone of my cooking repertoire. My old loyalties to countries such as Italy also pulled at me. Yet instead I decided to start with countries in regions with which I was not familiar. Perhaps even more surprisingly, I started close to home. Actually, I started at home. My research-and hence my journey-began in London. This, it transpired, was the perfect place to gain inspiration from the ethnic groups who have carried their culinary heritage with them. More specifically, it was a great starting point for exploring the street food of India and Sri Lanka.
I have always been fascinated by Indian food with its use of spices and regional differences. I called my two friends Jaimin and Amandip Kotecha, who have a great nose for the restaurants specializing in regional Indian food that are dotted around London. We met in Kingsbury, and sat down to a spectacular feast of street food favorites from all over India. The food was amazing, and I scribbled copious notes while eating my fill. My curiosity had been awakened. From this was born a long list of places that I heard had great street food and, most importantly, that I had not yet visited.
The next step was Southeast Asia. When I first traveled to Thailand and Vietnam in my mid-twenties, it completely knocked my socks off. I had never seen anything like it or tasted food like that before. Vietnamese food, in particular, is referred to as fragrant, aromatic, and perfumed. Vietnam has an amazing range of items from street food stalls, markets, and cafés, and so a number of recipes in this guide come from this intoxicating country. Still in Southeast Asia, the cultural melting pot that is Singapore is famed for its hawker stalls. Chinese, Indian, and Malay food styles are all represented.
"In countries and regions famous for their cuisine, it is impossible to separate food from society. The food of the place is the identity, history, and social context cementing everyone together."
Where else would I go? I had always had an urge to visit South America because I love the rhythms of the music and dance that seem to be the backbone of all of Latin America. It is also the birthplace of many ingredients that we now see as mainstream across Western cuisine, such as potatoes, beans, corn, and chocolate. My journeys to South America and Mexico brought the recipes for the Latin America section, with a small side trip to Jamaica.
Southeast Asia was not the only region to exert its familiar pull on my taste buds and in turn the contents of the Guide. Reading The Godfather at an early age had started an obsession with Sicily that had not yet been fully realized. Sicilian cuisine yielded many of the recipes found in the Southern Europe section. I thought I had a pretty good knowledge of Italian food, having traveled there often and also worked at the River Café in London for three years, where we changed the menu every lunch and dinner. Still, nothing could prepare me for the culinary treasures I was to find on this island, which were completely different from any other Italian food that I knew about. You can see the Moorish heritage in many dishes; Sicily's proximity to North Africa has had a profound influence on the unique food of this, the most-invaded island in the world.
North Africa and the Middle East have always intrigued me, too, because of the ancient spice routes and the traditional ways of living and cooking still largely intact from centuries past. Morocco conjures images of bazaars and spices, and probably has the most influential food of this region, so that was another "must do" destination. The food of the Levant region of the Eastern Mediterranean-namely Turkey, Lebanon, and Syria-has inspired centuries of food lovers and writers with its stunning flavors. It is also an area that is special to my father. After years of hearing his stories and receiving gifts of spices, I wanted to see these places and taste their wonders for myself.
Of course, the rudimentary means by which much street food is served bears little resemblance to the actual make-up of the food itself. There is nothing unsophisticated about the complexity of the spices, seasonings, and flavors, or the variety of cooking techniques needed to present the finished dish. Be it a bowl, a plastic dish, or a plate fashioned from a banana leaf, it is packed full of delicious ingredients. I was frequently asked questions along the lines of: "What's the food like in South America?" This type of question is impossible to answer because the different styles of food and eating that one can find in just one city or within one cultural group are enormous; once you travel further around a country, the variety simply expands. All around the world there are little snacks to be eaten while on the way to somewhere else. There are pastries, fritters, skewers, and wraps; salads, mezze, and tapas. Soups are served at all times of the day. Stews, casseroles, and tagines are slow-cooked to blend complex flavors. Fresh fish, kebabs, or strips of meat are quickly cooked over glowing embers. Large cuts and whole animals are baked in wood ovens, grilled, or spit-roasted. Regional variations of breads, relishes, and dips alone abound. Most things that I sampled were well made and freshly cooked, and I could witness them being enjoyed by the locals. In all the places that I visited, the reality was that there was no such thing as bad food sold from little stalls. If it were bad, no one would buy it, and the vendor would soon be out of business. Sometimes I would see two stalls close to each other. One would have a lively buzz and be packed with people buying the delights it had to offer; the other would be practically empty. My choice was obvious.
"I often started at the main vegetable market, then the fish market or where the fishing boats came into port. Another good location was near the central bus station or railway station."
When I arrived in unfamiliar towns and cities, I often started at the main vegetable market, then the fish market or where the fishing boats came into port. Another good location was near the central bus station or railway station. I would head in the opposite direction to the throng of tourists, instead following the locals to see how and where they bought their meals. One of the best indicators of the local hotspots is the workers, who are very discerning. Wherever the postmen, policemen, bus drivers, market traders, or fishermen are communing to eat, chances are it will be one of the best places in the neighborhood and worth a look. I had many great conversations with taxi drivers in different countries, and always made sure to ask about their favorite food. I would ask where the food was sold and whether they could take me there, whatever the time of day or night. A common thread that seems to run throughout all the countries and places renowned for their street food is that the people seem to be completely obsessed with eating it, planning to eat it, or talking about it. I often ate at 2:00 am or started in the market at 5:30 or 6:00 am. In Beirut, my friend Talal was completely unfazed at the idea of eating five breakfasts between 7:00 am and 10:30 am. There is always much to choose from and it is all deliciously tasty and handmade. Street food is fresh and usually healthy. If it is not healthy, it is so scrumptious that you do not really care.
The recipes that follow were chosen through much traveling and tasting. The list of countries they sprang from came out of places that interested me, in the context of social history and what I refer to as the "anthropology of food." The cuisines chosen have evolved over centuries of conquest, invasion, and migration. The countries visited share another thing: a healthy obsession with food and eating. It may seem like an eclectic list, and it is by no means a comprehensive one, but it is my personal street food journey through countries that have fascinated travelers for centuries. I hope it inspires you.