Things with Wings - Flavor Footprint - India
[Do Not Use]DK Publishing
2/07/2014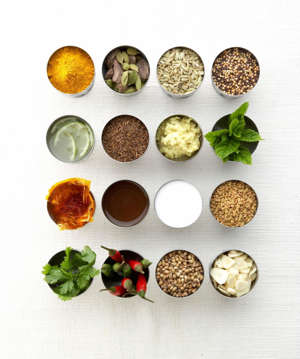 Signature ingredients - Top row (left to right): turmeric, cardamom, fennel seeds, mustard seeds; second row: lime, cumin seeds, ginger, mint; third row: saffron, tamarind, coconut, fenugreek; bottom row: cilantro, chiles, coriander seed, garlic.
Flavor Footprint - India
From the lentil and rice dishes of Gujarat to the tandoor cooking of the Punjab and the fiery lamb dishes of Andhra Pradesh, the cuisines of India are at least as varied as those of Europe. All, however, are characterized by the expert use of a wide variety of spices, very often used whole, and frequently combined into signature spice mixes called masalas. The five recipes here provide a quick primer on the way spices can add powerful excitement to everyday food without much effort.