US - Georgetown
[Do Not Use]DK Publishing
2/07/2014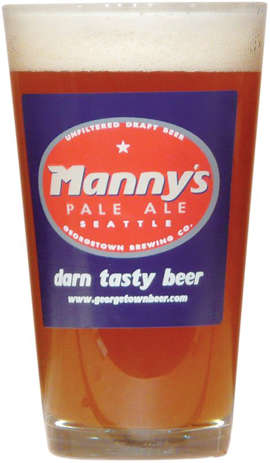 Georgetown

5840 Airport Way South, Unit 201, Seattle, WA, 98108
www.georgetownbeer.com
Co-founder Manny Chao was the first employee at Mac & Jack's Brewery in Redmond and learned his craft well. Georgetown sells only draft beer and initially focused on just one, Manny's Pale Ale. The brewery is one of many artisan businesses in the former Seattle Brewing and Malting plant, where the iconic Rainier brand was formerly brewed.
Manny's Pale Ale
beer style: Pale Ale
alcohol content: 5.4% ABV

Begins with notes of grapefruit, then hop flavors blend with fermentation fruitiness on the palate.
Choppers Red Ale
beer style: Extra Special Bitter
alcohol content: 6.5% ABV

A robust take on the style. Opens with a blast of spicy, citrussy hops, but a restrained bitterness lets the rich palate take charge.