US - Samuel Adams
[Do Not Use]DK Publishing
2/07/2014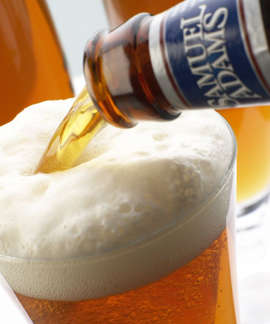 Samuel Adams

30 Germania Street, Boston, Massachusetts, 02130, USA
www.samueladams.com
The name Samuel Adams has been synonymous with craft beer since Boston Beer Company was one of just a few specialty beer sellers in the country. The company launched the brand in 1984, when it contracted production to mainstream producers with excess capacity. Boston Beer has since purchased some of those breweries and produces much of its own beer. The company holds an employees' homebrew contest each year, with the winner's beer being sold commercially, alongside winning brews from a national amateur competition.
Brewing secret
Today almost one out of five craft beers sold in the US is a Samuel Adams.
Boston Lager
beer style: Vienna Lager
alcohol content: 4.9% ABV

Complex flowery/piney nose. Full-bodied, with caramel in the middle, and a satisfyingly dry finish.
Scotch Ale
beer style: Scottish Ale
alcohol content: 5.4% ABV

Rich with caramel and molasses aromas and flavors. Underlying earthy and smoky notes come from the peat-smoked malt.
Black Lager
beer style: Schwarzbier
alcohol content: 4.9% ABV

Roasted but smooth, with caramel and nuts on the palate. Coffee notes throughout, providing a pleasing closing bitterness.
Utopias
beer style: Strong Ale
alcohol content: 27% ABV

The strongest beer in the world, aged in brandy and port barrels. Serve and sip like a rare cognac.