Vegetables - Leafy Vegetables
[Do Not Use]DK Publishing
2/07/2014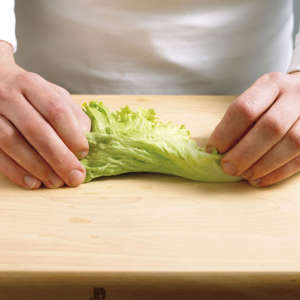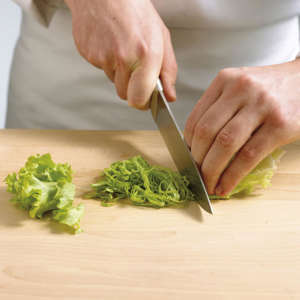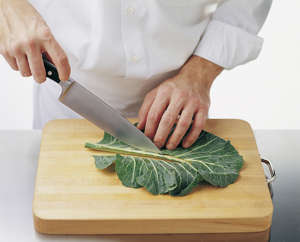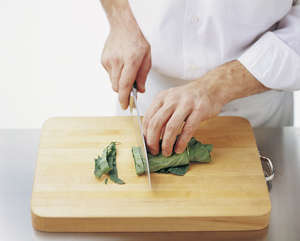 Leafy Vegetables

Vegetables from this family are often used in salads. The most common of these is lettuce, but there is also a wonderful variety of other salad leaves in all shapes, sizes, and colors. To prepare salad leaves, trim off the ends of the leaves, discarding any that are discolored. If the ribs are tough—typically, in romaine, endive, and radicchio—cut them out .
Chiffonade
The fine and lacy, leafy filaments created by this technique quickly soften in the heat of a pan, but still give a good texture to a soup or vegetable dish. As well as lettuce, herbs with plain, large leaves lend themselves to this method of cutting. Chiffonade of gem lettuce leaves may be used to garnish lettuce soup.
Lay the lettuce leaves on the cutting board, one on top of the other. Roll them toward you—like a cigarette—being careful not to bruise the leaves.
Using a large chef's knife, cut off the frilly ends of the leaves and discard. Slice the leaves into fine strips using the horizontal cutting grip, with the knife blade positioned safely against your knuckles.
Quick tip
A generous heap of sorrel chiffonade is essential to sorrel sauce, a cherished accompaniment to salmon. Sprinkle a chiffonade of basil leaves over salads, soups, and pasta, for additional flavor and color.
Trimming & slicing hearty greens
Before cutting a chiffonade of most hearty greens, such as Swiss chard, kale, collard greens, and the leaves of turnips and beets, they are trimmed to remove the central rib. Chinese crispy "seaweed" is often a deep-fried, fine chiffonade of cabbage or spring greens.
Discard all limp or discolored leaves. Using a chef's knife, quickly slash each leaf on either side of the rib. Remove and discard it. Rinse the leaves in water and pat dry on a towel or with paper towels.
Grab a handful of leaves and roll loosely into a bunch. Cut across the roll into strips of the desired width.
Top technique
With more tender leaves, such as spinach and sorrel, you can just pull off the stalk and rib instead of cutting it out with a knife. Spinach tends to trap soil so, if not prewashed, immerse the leaves in several changes of cold water to clean it. After draining in a colander, pat dry on a towel or with paper towels. Fold each leaf in half and pull off the central rib and stalk. The leaves are now ready to eat raw or to cook.