Vitamin Directory - Thiamine
[Do Not Use]DK Publishing
2/07/2014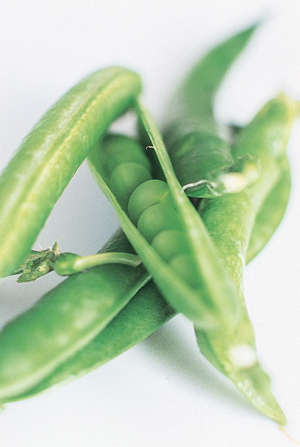 Green peas - An excellent source of thiamine, peas also contain significant amounts of beta-carotene (a precursor of vitamin A), niacin (B3), folate, vitamin C, and protein.
Thiamine

Daily requirement
men: 1.2mg per day
women: 1.1mg per day

Also known as vitamin B1, thiamine plays an important role in helping the body convert carbohydrates and fats into energy. It is essential for normal growth and development and helps to maintain proper functioning of the heart and the nervous and digestive systems. Thiamine is water-soluble and cannot be stored in the body; however, once absorbed, the vitamin is concentrated in muscle tissue.
Thiamine deficiency
Primary deficiency is rare because virtually all grain products in North America are fortified with this vitamin. However, deficiency sometimes occurs in people who abuse alcohol because excessive alcohol intake significantly decreases the body's ability to absorb thiamine and interferes with its chemical reactions in the body.
In the early stages of the deficiency, symptoms may include poor appetite, irritability, fatigue, and weight loss. As the deficiency becomes more advanced, weakness, nerve damage that may affect the hands and feet, headache, and a rapid heart rate may also develop.
A form of thiamine deficiency known as beriberi affects babies who are breast-fed by mothers with thiamine deficiency, people who abuse alcohol, and those who eat a lot of carbohydrates, especially polished rice, from which the vitamin is removed during processing. In its advanced stages, beriberi causes problems with the nervous system and the heart, leading to an abnormal heart rhythm (arrhythmia) and heart failure .
Good sourcesThiamine
This is found naturally in all these foods, which contain at least 0.1mg of the vitamin per 1–31/2oz (28–100g):
Green peas
Spinach
Liver
Beef
Pork
Navy beans
Nuts
Pinto beans
Soybeans