Western Australia - Winegrowing Areas of Western Australia
[Do Not Use]DK Publishing
2/07/2014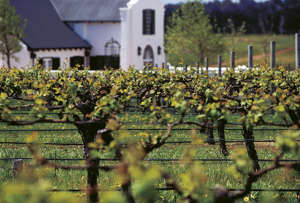 Voyager Estate's winery in Margaret River
Winegrowing Areas of Western Australia

Swan District
soil type: yellow-brown loamy soil, sandy yellow duplex
red grape variety: Grenache, Shiraz, Cabernet Sauvignon
white grape variety: Chenin Blanc, Chardonnay, Verdelho
wine styles: red, white, fortified

The Western Australian wine industry was born in the Swan District in 1829. Olive Farm in Guildford, north of Perth, has the distinction of having planted the first vineyard, but it is Houghton Wine Company, founded in 1859, that is recognized as truly marking the start of the commercial wine industry here.
The region boasts a hot climate, making it perfect for the production of the luscious fortified wines that gained prominence in the 1920s. Other wine styles then followed in the 1930s—tending to be full-bodied with a soft, mouth-filling generosity. Swan District has enjoyed greater success with white wines than reds, and the search for higher and cooler areas, such as Moondah Brook in the north, has definitely been rewarded with some high-quality wines, like Verdelho and Chenin Blanc.
Geographe
soil type: free-draining sands over limestone, sandy loams
red grape variety: Shiraz, Merlot, Cabernet Sauvignon
white grape variety: Chardonnay, Sémillon, Sauvignon Blanc
wine styles: red, white

This area takes its name from Geographe Bay, a popular seaside resort. While grapes have been cultivated here since the 1920s, the modern resurgence of the area on the wine scene dates back to 1973, when Dr. Barry Killerby established Leschenault Wines (now Killerby Wines) at Stratham, close to the Indian Ocean. He was followed by Capel Vale in 1975, and it is still these two producers that dominate this coastal strip north of Margaret River. The climate is warm and dry, yet influenced by ocean breezes that have a cool and humidifying effect on winegrowing. Chardonnay is the most consistent performer, and it runs the gamut of styles from fine to full-bodied. New red stars on the rise are robust Shiraz and full-bodied Merlot.
Margaret River
soil type: gravelly sandy loams with underlying granite
red grape variety: Cabernet Sauvignon, Shiraz, Merlot, Pinot Noir
white grape variety: Sémillon, Sauvignon Blanc, Riesling, Chardonnay
wine styles: red, white

Margaret river has it all: buckets of sunshine, surf, and world-class wines. The region comprises a coastal strip of low ridges from Cape Naturaliste in the north to Cape Leeuwin in the south. The star of Western Australia's winegrowing areas, it is one of the most maritime-influenced regions in the country, with ocean winds moderating the warm climate. Identified back in 1965 by agronomist Dr. John Gladstones as an exciting new wine region, Margaret River has developed fast. From one vineyard (Vasse Felix) in 1967, the region now has more than 114 producers. Gladstones compared the climate with Pomerol and St-Émilion in Bordeaux, and it is certainly the red and white Bordeaux grape varieties that stand out here, as well as a lively Sauvignon Blanc and a creamy, complex Chardonnay.
Australia's Bordeaux
In 1965, agronomist Dr. John Gladstones put forward the tantalizing theory that Margaret River had the potential to become an Australian Bordeaux. He found close climatic analogies between the regions, although Margaret River had the advantage of less spring frost, more reliable summer sun, and less risk of excessive rain during ripening. Consequently, in the 1970s, 20 vineyards were established in Margaret River. Another 23 were planted in the 1980s and, true to Gladstones' report, a strong Bordeaux connection was made. Sauvignon Blanc and Sémillon, traditional Bordeaux white varieties, adapted well to produce Margaret River's signature white. But it is the principal red varieties of Bordeaux—Cabernet Sauvignon, Merlot, Cabernet Franc, and Petit Verdot—that excel here. The wines are generous in fruit and smooth in tannin but are also well-structured. The words used most often to describe Margaret River Cabernet? Stylish and elegant.
Manjimup
soil type: gravelly sands and loams
red grape variety: Cabernet Sauvignon, Pinot Noir, Merlot
white grape variety: Chardonnay, Verdelho
wine styles: red, white, sparkling

It is still early days in Manjimup, a wine region that only dates from the late 1980s. Vineyards are thin on the ground and most are run as small family concerns. The only sizable player is Cape Mentelle, a Margaret River producer that set up a joint venture in 1998 with Fonty's Pool Farm, a local grower. The venture is producing a range of well-priced wines (Chardonnay, Pinot Noir, and Shiraz). The region, warmer than Pemberton to the south, is showing potential as a source of quality Chardonnay and Pinot Noir for exciting sparklings. It is also creating some vibrantly fruity still wines led by exuberant Verdelho and easy-drinking Chardonnay in the whites, and smooth Pinot Noir and Merlot in the reds.
Pemberton
soil type: gravelly sands and loams, fertile loams
red grape variety: Cabernet Sauvignon, Pinot Noir, Merlot
white grape variety: Verdelho, Chardonnay, Sauvignon Blanc
wine styles: red, white

Like Margaret river, Pemberton has agronomist Dr. John Gladstones to thank for highlighting its winegrowing potential. His report declared Pemberton to be one of the state's better sites for Pinot Noir and Chardonnay as a result of its relatively low temperatures, reduced sunshine hours, and high rainfall and humidity. His assessment has been proven correct. Site selection is vitally important in Pemberton because of its generally cool climate. The most consistent and successful wine is Chardonnay. Pinot Noir has put in the odd great performance but lacks general consistency. The low-lying mountains, northeast of Pemberton, where Salitage and Picardy have vineyards, is showing great potential for elegant, medium-bodied wines. Watch this space.
Great Southern
soil type: hard, mottled yellow duplex
red grape variety: Cabernet Sauvignon, Shiraz, Pinot Noir
white grape variety: Chardonnay, Riesling, Sauvignon Blanc
wine styles: red, white

Here, the emphasis is on "Great," for this is the biggest wine region in Western Australia. Great Southern has five subregions now developing individual styles. Frankland River, in the west, is gaining a reputation for elegant Riesling and Cabernet Sauvignon. Mount Barker, to the southeast of Frankland, is making a delightful spicy Rhône-style Shiraz; while Albany, in the south, is characterized by fleshy Pinot Noir and Chardonnay. Denmark, to the west of Albany, is producing fragrant whites and juicy reds. Porongurup, dominated by the Porongurup Range, is the latest up-and-coming region and is showing promise with aromatic Riesling, generous Chardonnay, and opulent Pinot Noir.