Winter - Jerusalem Artichokes
[Do Not Use]DK Publishing
2/07/2014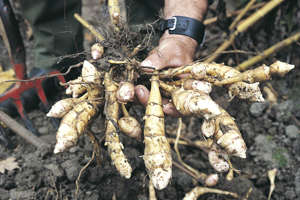 Jerusalem Artichokes

These flavorsome, nutty roots seem to spring up everywhere once planted. They can be difficult to prepare, although new varieties with smoother surfaces make the process easier.
When to pick
Harvest once the foliage has collapsed. In the colder months, leave in the ground and dig up as needed. If the ground is likely to freeze, they can be harvested and cold stored.
Eat and store fresh
Eat roasted or puréed, in stews, as soups, or in gratins. Jerusalem artichokes last up to 1 week in the fridge.
Freezing options
Jerusalem artichokes can be frozen once they have been cooked and puréed.