Mum reveals how running has helped her cope with her crippling bipolar - and get off medication for good

Mirror
9/01/2018
© Provided by Trinity Mirror Shared Services Limited The best way to describe my condition was a feeling of endless lostness.

I'd grown up with a mum who suffered from manic depression and I was diagnosed as bipolar when studying law at Hull University.
The diagnosis brought a sense of relief in a way.
I tried my best to create a typical life that I thought would make me happy.
I started a legal career with a firm in Leeds then got engaged to a solicitor. I had a nice house and also a cat.
All the while it was just this kind of false happiness. I had been on Prozac continuously from the age of 21. I felt like I was being swept along.
At the same time I was drinking quite a lot.
Mixing the wine with the Prozac was like a dangerous cocktail of misery.

When an old school friend took her life months before my wedding because of mental health ­problems it hit me hard.
She was only 26. I had no idea she was suffering and there was me with this seemingly perfect life planning a grand wedding.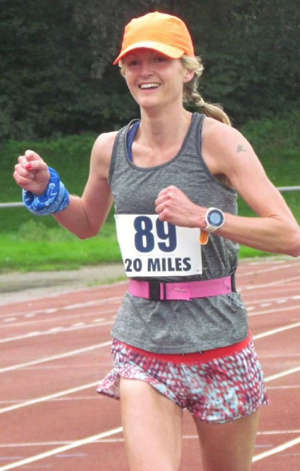 © Provided by Trinity Mirror Plc Rachel has since run over 50 half ­marathons, eight full marathons and done more than 500 races I felt I hadn't been honest with her. If she had known I was on Prozac and self- medicating with wine, would that have helped her?
Looking at my own mental health, I realised that exercise was the one hour of the day I looked forward to.
I'd been going for runs since I was 18. A boyfriend had called me fat – I was 12 stone – so I wanted to lose weight.
There was a two and a half mile loop near my mum's home in Halifax and I'd walk and run around it a couple of times a week.
I lost a couple of stone but this ­showed up the fact my breasts were two different sizes. So I had a breast ­reduction, which I kept to myself.
I noticed that however horrible I felt, I would come back from a run and feel better. It became addictive.
The natural endorphins, the fresh air and the feeling of freedom gave me a new life.
I realised I didn't have to be Rachel the lawyer, Rachel the wife, I could just be me. I split from my husband after 18 months, quit law and decided to retrain as a personal trainer.
When in 2007 I got pregnant , I was terrified I'd suffer from postnatal depression.
The medication was helping me from falling down a pit of abject misery and I didn't know if I could look after another little person.

So I set myself a goal to run the London Marathon .
I needed a catalyst to throw me into motherhood and to find myself again.
Once Matilda, now seven, was born, I would run with her in a buggy or watch her as I trained on the treadmill.
© Provided by Trinity Mirror Shared Services Limited So when I was stood at the race's start, I knew the hardest part was behind me.

Crossing the finish line in April 2009 was euphoric. It catapulted me into the world of running that I never dreamed I could be a part of.
Now I've run over 50 half ­marathons, eight full marathons and done more than 500 races.
It gave me the confidence to believe in my own choices again and mentally that's a huge help.
It helped me to manage things that otherwise would have overwhelmed me.
It gave me the freedom and mental relief I needed to get off my medication after 12 years, and I even met my new husband Gav at my local running club.
It's been a 20-year physical and mental journey. Now I've written my memoir about how running saved me.
I haven't outrun my demons. It never quite ends. The finish line is always moving and different challenges always crop up, but running helps me cope.
My tips for new runners
1 Be realistic
It will take time to build up your running endurance so be realistic about your progress from the start.
2 Find others
Join a local running club or turn up to a Parkrun in your area every Saturday morning.
3 Know it will hurt
Just knowing this will help you push through those times when everything hurts, it suddenly seems like a bad idea, and you want to stop.
It's fine to stop and walk, take a breather, revisit your goals and expectations, and seek advice and support. But never, EVER give up.
4 Be inspired
There are so many running books, magazines, online communities and blogs out there to choose from. So you can realise that other people have felt exactly how you feel.
5 You don't have to run a marathon
Be aware of setting goals you're neither physically or mentally prepared for. Run a 5k in under 30 minutes? That's equally gutsy and can be incredibly hard work.
Running For My Life – How I built a better me one step at a time, by Rachel Cullen is out on Thursday, RRP £12.99 (Blink Publishing).
Related: These 6 Reasons Will Motivate You To Workout (provided by Wochit News)