Young woman who weighed '300 pounds' transformed her body after life-threatening event

Indy 100
12/02/2018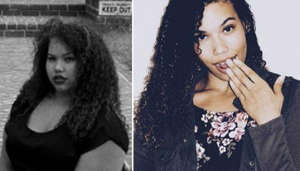 © Provided by Independent Print Limited Twenty-two year old Dominique Montgomery decided to stop overeating after almost drowning during a day out.
Suffering from a binge eating disorder since the age of five, Montgomery came to consume some 5,500 calories daily by the time she got to high school.
Attempts to curb her eating habits by engaging in fad diets failed just a few weeks in, and old habits quickly returned.
The Californian became depressed, and would eat when she was "sad or bored". 
Writing on her GoFundMe page, she reveals that at one point:
 Someone seriously threw a burrito at me from the bleachers at a football game.. I constantly questioned why no one treated me for the sweet person that I was, so many people just saw the extra weight I carried. 
The final turning point in her life came in 2015, when she was caving with a few friends and the tide came in.
Everyone managed to get themselves out, but I was frantic, panicking because I didn't think in that moment that I would make it back home that day, I prayed for God's strength to move me because I knew no one, not even myself, could help lift me out of that water.

I got out. I don't know how, I can't remember much of that day, but by the grace of God, I am still here today to share the story. 
At her heaviest, she weighed 300 pounds (21.4 stone).
After devoting her life to "eating healthy, no more junk food [and eventually] jogging three miles a day", she lost a whopping 130 pounds (8.5 stone). 
Now, she's fundraising to raise money for surgery that would remove the excess skin she has to carry as a result of her weight loss.
I wake up in terrible pain every morning because of how the heavy amounts of skin sink into my abdomen, I have to suck in/flex my stomach when I walk to hold the skin in because if not it feels as if my skin is ripping away from my stomach, I get rashes often from the skin folding in problematic areas and many times a burning/tearing sensation around my breasts. 
Montgomery is also in the process of designing fitness programs and nutrition guides, as well as penning a memoir about her journey in an effort to help other people who want to "embark on a new way of life". 
You can see a video of her transformation, here: 
For more of the most popular News, Sport, Lifestyle & Entertainment on MSN, Follow us on Facebook, and on Twitter