Man who squeezed spot above eye almost loses sight

The Independent
27/09/2016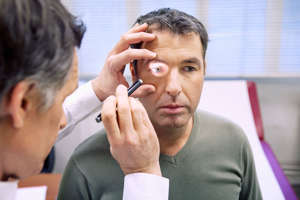 A man has told how he almost lost his sight after squeezing a spot above his eye.
Harmless-looking pimples can actually provide germs with a gateway into the body when squeezed.
Germs living on the surface - such as those which cause MRSA - can even cause blindness, as one Reddit user recently discovered.
"I had a pimple in my eyebrow that was annoying me and I decided to squeeze it," wrote Class0naught. "This seemed to work at the time, but the next day it had grown back twice as big.
"Turns out by squeezing the pimple I forced the infection deeper and ended up with periorbital cellulitis. If I had left it much longer it could have spread to the orbit and blinded me."
A doctor had initially reassured him that the spot above his eye was a sebaceous cyst, and prescribed him antibiotics to treat it.
But half a day later, the spot had tripled in size and the man was struggling to see out of his eye.
"The doctor … said I could go to the hospital 'if I wanted'," he wrote.
But he quickly realised how serious the pimple was when arrived at the hospital and medical staff "freaked" and hooked him up to an IV drip of antibiotics.
By squeezing the pimple, he had pushed MRSA inside his body and into the skin around his eye, causing the condition known as periorbital cellulitis.
Celebs in specs and the eye-care tips you need