Mums' baby tips for PM: 'Just go with the flow'

Radio New Zealand
13/06/2018
© Photo: RNZ / Chris Bramwell Prime Minister Jacinda Ardern on her way to the post-cabinet news briefing this week. Jacinda Ardern is due to give birth to her first child on Sunday - and will make history as the first western world leader to do so while in office.

She will keep working until she gets to hospital and then Deputy Prime Minister Winston Peters will take over the top job for six weeks.
Out in the playground at the Glen Innes Playcentre in Auckland, mums and their toddlers gave their tips to Ms Ardern.
One of them was Fiona Nicholls and her 16-month-year-old daughter Georgia.
She said her one bit of advice was that was no-one rule when it came to raising children.
"I'm not into reading books and all that kind of stuff because every child is absolutely different," she said.
"You just have to get to know your child, get to know what they do and just go with the flow and do whatever you think is best for your child."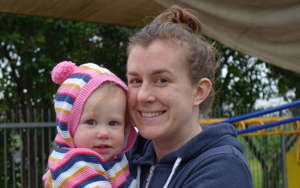 Ms Nicholl said while it was great Ms Ardern was working right up until she gave birth, that was not for everyone.
"I just relaxed as much as I could because most of my friends had warned me that once the baby comes, that's it, you'll have time to sleep but otherwise you're full," she said.
"I finished work three weeks before I gave birth and it was great, I just chilled out."
Inside the playcentre, Charlotte Williams and her two young daughters were getting their hands stuck into a freshly made batch of playdough.
Ms Williams said she found it difficult to go back to work three months after giving birth, and was still breastfeeding.
"Getting up at ... 5.30-6am to get to work, pumping before you go and having the bottles all ready - it's full on," she said.
"But I really wanted to do it and I really enjoy doing it so I think everybody's different, you just have to be super, super organised."
Ms Ardern has said after she goes back to work her partner Clarke Gayford will take over the primary caregiver role.
Labour list MP Willow Jean Prime also went back to parliament when her daughter, Heeni, was seven weeks old.
Ms Prime said while she enjoyed working, among the hustle and bustle of meetings it was important for her to take time out and be calm for her daughter.
"I found myself doing that a lot when I was in Wellington, whether that was breastfeeding in the house ... at a select committee ... or just in the cafeteria," she said.
"So just trying to work on bringing my heart rate down to be as calm as possible."
Victoria University professor of history Charlotte MacDonald said there was a lot of international interest in Ms Ardern.
"What we hope might happen from New Zealand doing something different is that people do see there are different ways to arrange political life and the social practices and demands that go along with being parents, being mothers and being leaders," she said.
Ms Ardern plans to give birth at Auckland Hospital and will now be within driving distance of Auckland until she delivers the baby.
In Pictures: The rise of Jacinda Ardern