Zoe Foster Blake just shared her 'pervy' birth recommendations. It crashed her website.

Mamamia
13/10/2017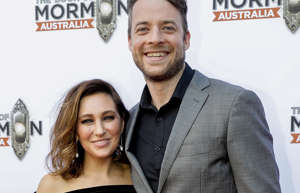 © Getty Images Zoe Foster Blake and Hamish Blake Just shy of three months ago, Zoe Foster Blake and husband Hamish welcomed daughter Rudy Hazel Blake into the world.

Now, she's written all about how Rudy arrived into the world, and offered up a tonne of recommendations on what to pack in the perfect hospital bag.
There's only one problem: fans were so eager to "inhale" all the "pervy details" of Rudy's arrival, the author and beauty guru's website ZoTheySay completely crashed.
Posting an adorable post-birth pic, Zoe admitted she was a "desperate fiend for recommendations" during both of her pregnancies.
"Especially when it comes to birth/breastfeeding stuff because I forget/am nosy/have no clue/time so I just need the Internet Friend Advice from people who've been there," Zoe wrote.
"To pay back the favour, I wrote a (long and pretty boring) blog on my birth, and what I packed for the hospital, and some great breastfeeding clothes, and the tights I wish I knew about when I brought my first baby home."
© ABC News The mum-of-two said she was quite particular about the things she decided to bring to the hospital.
"I just wore lots of Bonds breastfeeding singlets, and Kmart men's black undies. Cute! I packed Tom maternity pads because they are like a big fluffy cloud, (by far the best maternity pads. The others are too thin, or too long, or too surfboardy) and BodyICE ice packs, for the whole… situation down there, and all my beloved Go-To skin care so I felt human and smelled nice. (Sometimes. Sometimes I was just tears and colostrum and pizza grease.)
"I wore a tracksuit home. I don't understand dressing nicely to go home. Do people still do that?"
Zoe's latest recommendations come just two months after she shared her brilliant tips and tricks for dealing with an unsettled, gassy bub.

Fans were to quick to thank Zoe for sharing her story and 'birthing suite hacks'.
"I literally have A BOX full of things [Zoe] told me to buy when she wrote about Sonny and they have been THE BEST," one fan wrote.
"Take notes the woman is a goddam goddess."
"I think you broke the internet," wrote another who was unable to access the site.
You can read the marvellous full blog post on ZoTheySay, right here.