How to outsmart picky eaters

Food To Love
15/05/2018
© Bauer Media How to outsmart picky eaters. Dinnertime for anyone can be difficult if you don't know where to start. Balancing preparation time with nutritional value and cost is tricky enough as it is, but add a fussy little one to the mix and that drive-thru dinner run seems especially appealing.
But there are a few ways to tick all the boxes when it comes to plating up an economical and healthy meal that will have dishes coming back clean.
All you need is a few of tried-and-tested tricks up your sleeve, and nutritionist and chef Zoe Bingely-Pullin here shares her advice on outsmarting picky eaters at the dinner table. Who knows, they may even turn into accidental foodies!
1. Get creative
While it's no secret that kids can become nervous about trying new foods, Zoe says it's not the flavours, but often the texture, that puts them off.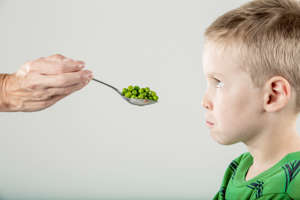 © Getty A fussy child. "As to why they are sometimes a little bit nervous, it's often the texture element of food," she says.
"So from a texture perspective, it's always good to try and get it down to a puree or a grated version of that vegetable."
Try grating, finely chopping or baking vegetables when trying to hide them in your kids' dinners.
2. Start small
It's important to remember that young tastebuds are more sensitive than those of adults', so what may be just a dash of spices for you could be the difference between a dinner that's eaten without a fuss and a plateful of food with an unhappy child to boot.
"[Try] just a little a bit of pepper or a little bit of nutmeg, so your child goes, 'that's interesting but not overwhelming'," Zoe explains.
3. Make it pop
A vibrant, colourful dish can turn heads, and this only rings truer when it comes to kids.
"It's as much making it about it taste exciting as it is making it visually exciting," says Zoe.
"For example, I love how Little Bud have put pumpkin in [their ready-made, nasties-free fish pie] because it's a lovely sweet flavour, it has colour and it looks vibrant."
4. Tell a little white lie
Everything can be chicken when you're none the wiser, and if that's what makes the difference in fussy eaters the nutrition they need, Zoe says telling a little fib is a-okay.
"There's no one rule for every child, and as a nutritionist and a mum, I'd love to describe everything that they're eating…to give them a level of base knowledge," she says.
"But then I also think it's really important to give them good nutrition and so sometimes you just need to get the foods in their diets."
5. Take it back to the basics
Getting kids involved in the cooking process can mean the difference between happy and fussy tastebuds.
"I find that when you are giving a child a new flavour, it's good to take it right from the beginning," Zoe advises.
"You know, by taking [the ingredients] out of the trolley or bag from the supermarket and explaining it all, getting them to touch it and feel it."
Studies have shown that repeating this process can help change children's attitude towards food.
However, Zoe concedes that these discussions can take time you sometimes don't have.
"It's about picking the days you can do that," she says. "For the other five days a week, you might find that you simply just don't have time to do that.
"So it might be that you're combining a bit of a Little Bud scenario, with their pre-prepared meals with some of the quick, fresh meals that you can make very dynamically and on the spot as well."
6. Eat dinner as a family
You know young ones often aspire to be just like their parents.
And as the parent, you're certainly allowed to use that knowledge against them.
Sit down as a family and plate up something delicious, peppered with intriguing elements the kids may not have seen before.
It may inspire them to sneak a little something from your plate, and, if you're lucky, voila! Mushrooms are now a favourite with the whole family.
"I think the community element is as important as seeing what the family is eating as well," Zoe adds.
"We sort of have a rule in our house that we try and eat at least one meal every day together."