Peppa Pig cake fail: 'We laughed about it later'

9Honey
11/11/2017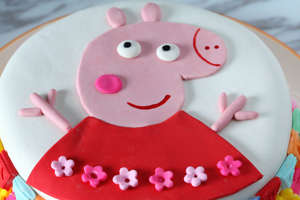 © Shutterstock An Irish mum's epic cake failure An Irish mum has shared an epic cake fail, and it was a much bigger fail than just a mis-spelled name.

Karen Moroney from Limerick in the UK ordered a Peppa Pig birthday cake for daughter Layla-Valentina's second birthday.
"They asked me to bring in the image I wanted on the cake on a memory stick and they would scan it onto the cake," the mum told The Irish Sun.
"So they did."
"The Peppa Pig picture was the only file on the USB," she explained of the error.
誕生日ケーキにPeppa Pigのキャラクターをプリントしてと画像ファイルの入ったUSBメモリーを渡したらUSBメモリーをプリントした誕生日ケーキが届いた😭
Peppa Pig cake fail: 'We laughed about it later' https://t.co/VrnTQwoGgi pic.twitter.com/4vnJ0Ubllj

— Ktr Massimo (@robbieburnside) 8 November 2017
Thankfully the store was able to fix the mistake by icing over the image of the USB and putting a printed photo of Peppa Pig on top.

"The cake tasted fab and we all had a laugh in the end...and we got the price of the cake back," she said.
We are laughing about it now. It's a comedy show."
Pictures: 25 Ways to Use Almost-Spoiled Food
25 Ways to Use Almost-Spoiled Food Slideshow provided by Eat This! Not That!