Love is in the air: Celebrating the royal wedding in Te Aroha

Radio New Zealand
15/05/2018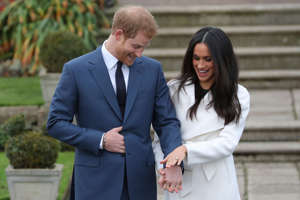 © Daniel Leal-Olivas/AFP/Getty Images Britain's Prince Harry stands with his fiancée US actress Meghan Markle as she shows off her engagement ring whilst they pose for a photograph in the Sunken Garden at Kensington Palace in west London on November 27, 2017, following the announcement of their engagement. Britain's Prince Harry will marry his US actress girlfriend Meghan Markle early next year after the couple became engaged earlier this month, Clarence House announced on Monday. A mass vow renewal ceremony will be taking place in Te Aroha this weekend to coincide with the royal wedding.
Organiser Angela Thompson said the ceremony will be celebrating love and Prince Harry and Meghan Markle's wedding.
"We are so privileged to live here in Te Aroha, beneath the mountain of love," she said.
Ms Thompson said the ceremony will bring communities together. The ceremony will have a band playing as well as a royal procession with lookalikes playing the royal family, including a Prince Harry and a Meghan Markle.
The army will be escorting the lookalike royal family, followed by a royal picnic and release of a load of pigeons.
There will also be a 12-seater carriage train that children ride on.
"The picnic is a shared picnic except for the royal table which will be served on all the appropriate china" - Event organiser Angela Thompson (4 min 33 sec)
Ms Thompson said the event starts on Thursday with a visit to the rest home, the community hospital and the town to promote the big event on Saturday.
The ceremony starts at 12pm.
In pictures: Prince Harry and Meghan Markle's wedding - what we know so far