13 tips for hosting the perfect barbecue

Photos
14/05/2019
A barbecue party is a great way to socialize and get together with friends and family. However, to ensure a stress-free and enjoyable event, there can be a lot to do and plan. Here are some tips on hosting a memorable BBQ party. 
Make a guest list
© Thomas Bedenk/Shutterstock Before making the guest list, think twice about the space and seating arrangement that you have; don't overcrowd the place by inviting too many people. Prepare the list once you are sure you can accommodate a certain number. Once you know the headcount, you'll be able to better plan for what to include on the menu.
Prepare for the worst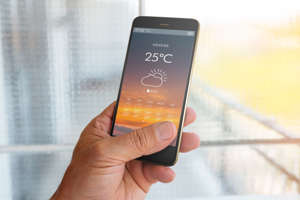 © OSORIOartist/Shutterstock Right from stocking fire extinguishers to ensuring cover from any unexpected rain, it's good to be fully prepared for any scenario. To be on the safe side, check the weather forecast well ahead for the get-together. 
Share the invites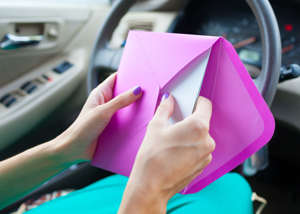 © kieferpix/Getty Images Whether you choose to write a text, email or deliver the invites in person, adding a line asking about an RSVP further helps you get a proper headcount. Another crucial thing to know is if any of the guests have any allergies or dietary requirements. This way you will be sure that none of your guests are disappointed with the menu.
Pick a dress code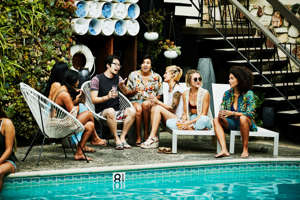 © Thomas Barwick/Getty Images Depending on the mood and the weather, choose a suitable dress code. If hosting a pool party, ask your guests to bring their swimwear if they want to swim. Something as simple as flip flops and floral printed casuals could also go a long way in adding to the atmosphere of the party.
Make a playlist
© gorodenkoff/Getty Images Have a playlist ready to set the mood of the party. Don't choose your favorites, instead pick a collection of classics that are liked by all. Remember not to play it too loud, otherwise it could become difficult for guests to talk and you could also disturb your neighbors.

Don't forget the drinks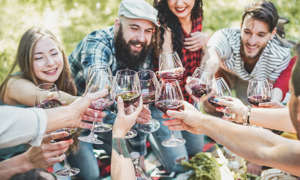 © DisobeyArt/Getty Images You know your guests well enough to understand who enjoys what. Plan accordingly and stock the bar, but also keep non-alcoholic drinks like iced-tea, lemonade, soda and water handy. Don't forget the ice cubes!

Keep mosquitoes and insects at bay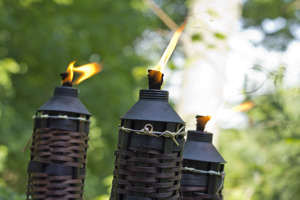 © Getty Images Invest in pest killers and insect sprays to ward off wasps, mosquitoes and other bugs that may hinder your plans. For example, citronella candles are good at keeping away mosquitoes. Installing some fans is also a great idea.
Prep the area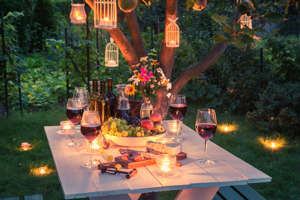 © Shaiith/Getty Images A barbecue that begins in the afternoon can go on past sunset. To achieve a good party ambience, invest in a few lanterns, string lights, bulbs, tealights and extension cords. You can cover fences, trees and patios with lights to make your place look impressive. You could also opt for floral decorations for a lighter touch.
Gear up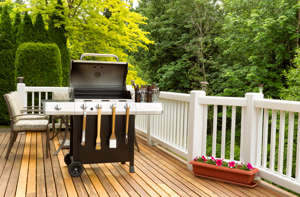 © tab1962/Getty Images Keep all your basic barbecue equipment such as tongs, grill brush, spatula, grilling basket and a pair of gloves in place. Ensure the grill is washed properly and there is no congealed fat or ash on it. Oils come off easily if the grill is washed as it cools after previous use.

Marinate the meat overnight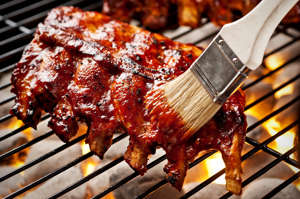 © mphillips007/Getty Images To soak in the flavors, make sure you let the meat stay in the marinade for over 12 hours.
Be ready before the guests arrive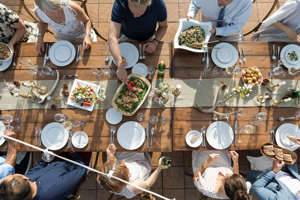 © Hero Images/Getty Images Spread the dishes like a buffet with plates, cutlery and napkins at both ends. Keep a variety of dips, ketchup and condiments to suit all tastes.

Don't forget the dessert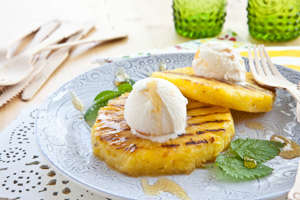 © Barbara Neveu/Shutterstock Sticking to the barbecue theme, you can grill almost any fruit as long as it is firm. Once done, just add scoops of vanilla ice cream and you're sorted. Another idea would be to make a delicious tart or cake beforehand for your guests to enjoy. 
Place bins around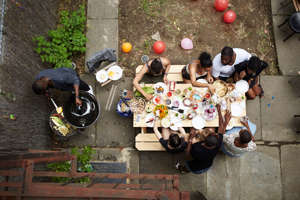 © Getty Images Unless you want to spend the rest of the day tidying up, place at least two dustbins to make sure the space looks neat even after the guests have left. That way, you can focus on enjoying the party with your guests!