Drinking matcha tea may help reduce anxiety

Cover Media
10/07/2019
With the fast pace of modern life, many of us suffer from stress and anxiety.
Exercise, meditation and breathing exercises have all been recommended by health experts as ways to combat panic attacks or other nervous conditions, but now researchers from Kumamoto University in Japan have added drinking matcha green tea, which is made from a finely ground powder using the new leaves from the Camellia sinensis plant, to the list.
Video: Every Delicious, Nutritious Reason to Start Sipping Matcha Tea Today (Real Simple)
Using the "elevated plus maze" test with mice, the researchers found that matcha's anxiolytic effects, or anti-panic or anti-anxiety agents, are due to the activation of dopamine D1 receptors and certain serotonin receptors.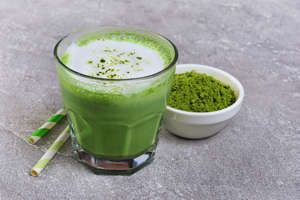 © Getty Organic green matcha tea latte in glass and powder in white bowl with cocktail straw on gray concrete background They also reported that mouse anxiety was reduced after consuming matcha powder or matcha extract, while when the anxiolytic activity of different matcha extracts were evaluated, a stronger effect was found with the extract derived using 80 per cent ethanol in comparison to the one derived from only hot water. 

Matcha has a long history of being used for various medicinal purposes in Japan, including for helping people to relax, preventing obesity, and the treatment of skin conditions.
Gallery: The best afternoon teas in London (Town & Country UK)