Duchess Kate's hilarious concern about Pippa's big day

NowToLove
17/05/2017
Video provided by Dailymotion
Saturday can't come soon enough for bride-to-be Pippa Middleton, but Duchess Catherine has one very relatable anxiety about her little sister's big day.
On Tuesday, the royal mum stepped out for Queen Elizabeth's first Buckingham Palace garden party of the year.
During the event she spilled to one attendee that she had a few qualms about Prince George and Princess Charlotte's roles as page boy and bridesmaid in the upcoming wedding.
The royals were in full force for the year's very first Garden Party, hosted by the Queen herself!
Catherine looking stunning in one of her most beloved outfits.
She finished off her look with an elegant blue hat.
Look at that smile!
"She said that they were all really looking forward to her sister's wedding at the weekend, but she was a bit worried about how her children might behave," Andrew Bates told reporters after his chat with Kate.
"She said she was hopeful that they would be good, but you never know at that age."
Last month, the palace confirmed that our favourite mini-royals had joined Pippa's bridal party.
The kids' Aunty and James Matthews will wed at St. Mark's Church in Englefield, near the Middleton family home in Bucklebury, England, this weekend.
The royal mum-of-two admitted she has her concerns about the upcoming wedding...
Our little cherubs have starring roles.
And Kate admits she's worried they won't behave.
While it is clearly a busy time for the former Middleton, Duchess Catherine put her royal duties first.
Dressed in one of her favourite pieces, an ice blue Christopher Kane coatdress, Kate stepped out with the Queen, Prince Philip, Prince William, Princess Anne, Prince Edward and Princess Beatrice for one of her Majesty's most beloved events.
To of the mornin' to you Prince Philip.
Her Majesty and her matching brolly.
The Queen throws four garden parties every year.
Over 8000 guests were invited to the Palace for the stunning bash, which is thrown four times a year.
And the royals know how to serve a proper English tea!
Attendees were treated to around 20,000 slices of cake, 20,000 sandwiches and over 27,000 cups of tea.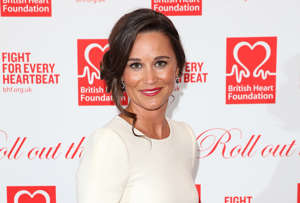 How very fancy indeed!