Emma Watson always wears red lipstick to an 'important' event

BANG Showbiz
8/03/2017
Emma Watson will always wear red lipstick if she attends "something important".
The 26-year-old actress prefers to have a more natural beauty look and will not wear too many cosmetic products because she wants to show off her freckled skin, although if she is due to attend star-studded events she will opt for a "clean eye" and a rouge matte lip. 

Speaking to Into The Gloss about her style preferences, the 'Beauty and the Beast' star said: "If I'm doing my make-up myself, I do quite a clean eye and a matte red lip. The red lip always comes out if something important is happening. I did it on graduation day, and I did it for the Women's March. 
#WomensMarch pic.twitter.com/dYZPxJ13FI

— Emma Watson (@EmmaWatson) January 22, 2017
"I'm not someone who has a tonne of pink in her skin, so I get washed out without a bit of colour added to my face. It makes me look healthy and less exhausted."
However, Emma struggles to find products to suit her complexion.
She said: "Finding a good, natural eyeliner took me like, six months, but I found one. Jane Iredale does an amazing liquid eyeliner and she has one in a dark brown, which I prefer to black on my skin tone. It's hard to find a bronzer that's a good colour and not glittery.
"The object for me when applying make-up is you should be able to see as much skin as possible. As I've gotten older, I've embraced my freckles much more and I want to be able to see them.
"I think the look of natural skin is beautiful."
And the star's fascination with cosmetics started at an early age, as she would regularly rummage through beauty experts make-up bags whilst on a film set.
She explained: "There's something about looking into someone else's make-up bag - it's such an intimate glimpse into their personality somehow. When I was a kid and working on 'Harry Potter', I would always ask the make-up artists, or just anyone, 'Can I see your make-up bag?' I loved exploring that way.
"And my other favourite thing was, while I was having my hair and make-up done, to clean and organise people's make-up bags. So I would sit there and clean every product and put it all back together again. Anyway, it's been a passion of mine for a long time."
But the one cosmetics item Emma rarely relies on it nail polish, as she doesn't think it is "useful" for her to wear in her daily life.
She explained: "Weirdly, I often don't wear nail polish on my hands in my day-to-day life. It doesn't seem like a useful way to spend my time when it will be destroyed within minutes. But I love, love, love having my toenails crazy colours."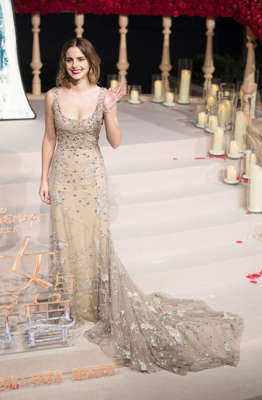 Style file: Emma Watson's amazing looks