Girlfriend prints cheeky T-shirt for boyfriend to warn girls away from him while on holiday

Mirror
19/06/2017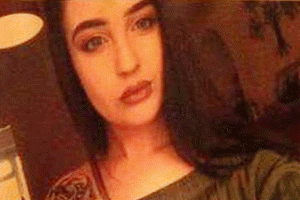 © Provided by Trinity Mirror Plc A girlfriend has designed a T-shirt for her boyfriend in an attempt to ward off any unwanted female attention while he's on a break with his pals.
Korie Heyward printed the cheeky garment last week ahead of her boyfriend, Jake Tolliver's holiday to Malia at the end of the month.
The white top features a picture of Korie on the front with the words, "if you can read this then you're too close so stay away".
And the back has a picture of Korie and the couple's four month old daughter, Emmy-Rose, with the message, "I love my girls and hate all the girls in Malia".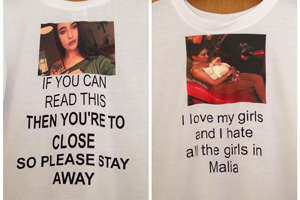 © Provided by Trinity Mirror Plc Her face was also emblazoned on the T-shirt The 18-year-old described it as a "bit of fun" to highlight the fact that Jake is heading off on a lads holiday while she will be at home looking after Emmy-Rose, reports the Bristol Post.
However, Jake didn't initially see the funny side of the prank.
"He wasn't happy about it to begin with," Korie said.
"But a little later he said it was pretty funny and that he would put it on."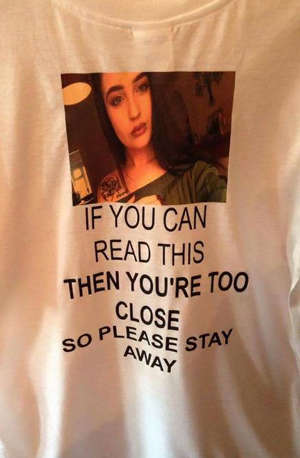 © Provided by Trinity Mirror Plc The teenager got the idea for the joke from other women who had created similar shirts on the internet.
Korie then enlisted the help of her sister's friend to print the pictures and her message on the white top.
And unlike Jake, her friends and family were instantly amused.
Korie said: "Everyone thought it was absolutely hilarious. I mean some people said I was a psycho, but I think most people know it is a joke."
And while the new mum has said she doesn't mind if Jake leaves the shirt at home, it looks like the 22-year-old will be taking to Crete.
Korie said: "Jake's friends think it is really funny and they have messaged me to say that they want to take selfies in it.
"The ironic thing is that he will probably get more attention now!"
Related: How to know you're in the right relationship