Queen Elizabeth II loves this cake so much she even travels with it

Country Living (UK)
14/06/2017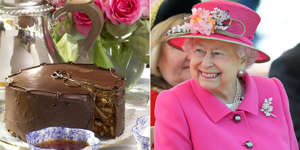 Queen Elizabeth II takes a regal delicacy with her when she travels and, according to Darren McGrady, her former chef who cooked for her for 15 years, she prefers sweet to savoury snacks. But not just any sugary treat, her famous Chocolate Biscuit Cake.

McGrady reveals that, when the Queen travels to Windsor Castle, she puts a senior chef on cake duty and has them ride in a train behind her with her favourite after-dinner dessert. But don't worry, she doesn't restrict herself to only enjoying her favourite cake when she's en route...
"She'll take a small slice every day until eventually there is only one tiny piece, but you have to send that up, she wants to finish the whole of that cake," McGrady told RecipesPlus.
Here's how you can make it for yourself at home per McGrady's website, The Royal Chef.
Ingredients:
4 oz (113g) dark chocolate
4 oz (113g) granulated sugar
4 oz (113g) unsalted butter
1 egg
8 oz (226g) Rich tea biscuits
½ teaspoon butter for greasing
8 oz (226g) dark chocolate (for coating)
1 oz (28g) chocolate (for decoration)
Instructions:
Lightly grease a 6 inch by 2 ½ inch cake pan and place it on a sheet of parchment paper.
Break each of the biscuits into almond-size pieces by hand and set aside.
Mix butter and sugar in a bowl until the mixture starts to lighten.
Melt the 4 oz of chocolate and add to the butter mixture while constantly stirring.
Beat in the egg to the mixture.
Fold in the biscuit pieces until they are all coated with the chocolate mixture.
Spoon the mixture into the pan.
All the cake to chill for at least three hours.
Pour the melted chocolate over the cake and smooth the top and sides using a knife.
Allow it to set at room temperature.
Melt the remaining 1 oz of chocolate and use to decorate the top of the cake.
This was also the cake Prince William and the Duchess of Cambridge requested for their wedding!