Victoria Beckham arrives in LA sporting t-shirt revealing why she always looks miserable

Mirror
29/03/2017
She's renowned for rarely cracking a smile, but Victoria Beckham may finally have revealed the reason why. 

The 42-year-old fashion designer arrived in LA sporting a t-shirt which appeared to blame her CAREER for her lack of grin.
The mum-of-four landed at LAX airport wearing a white shirt emblazoned with the slogan "Fashion stole my smile".
She paired the statement tee with a loose black trousers, huge sunglasses and, of course, her trademark sullen pout.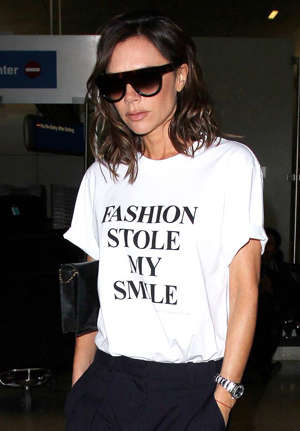 Former Spice Girl Victoria has previously blamed her work in fashion for her perpetual poker face.
In an interview with American Vogue in January 2015, she said: "I'm smiling on the inside, but i feel like I have a responsibility to the fashion community."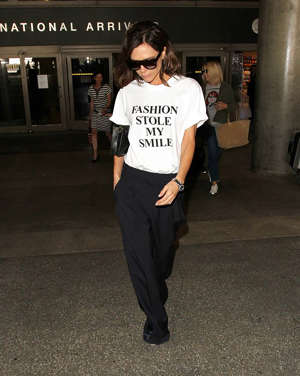 Despite her glum exterior, Victoria certainly has a lot to be happy about.
Husband David Beckham took to Instagram on Sunday to share a gushing tribute to his wife on Mother's Day .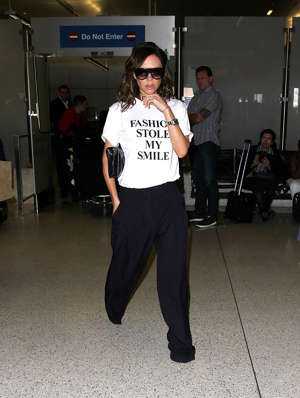 The former footballer posted a sweet snap showing Victoria and their four children enjoying an intimate moment by the ocean.

He wrote: "Happy mama's day to another amazing mummy... Someone that has raised these beautiful little ones to be the most precious, special and loved children... A woman that has drive, passion, intelligence and love for her children.
"What gets any better than that?? Thank you for giving me the most beautiful gift @victoriabeckham (To all the mums have an amazing day)."
David and Victoria have sons Brooklyn, 18, Romeo, 14, Cruz, 12, and five-year-old daughter Harper.
Harper melted hearts with her adorable Mother's Day Card, which Victoria shared on her Instagram
Calling it the "sweetest message" from her little best friend, the card features a drawing of the tot standing next to her as they hold balloons.
The adorable handwritten message says: "Dear mummy, I hope you have a lovely day with us. Enjoy lunch. You are very spesial to me. You are my best friend I have ever met. Love Harper (sic)."
It adds: "Hooray, hooray for mummy."