Kate Middleton looks stunning in tweed at Victoria and Albert Museum after return from maternity leave

Mirror
10/10/2018
Kate Middleton looked elegant in tweed as she made her first visit as Royal Patron of the V&A to open the museum's new Photography Centre this evening.
The 36-year-old opted for a £1,395 Erdem off-the-shoulder burgundy, black and white bouclé-tweed midi dress encrusted with crystal and faux pearl embellishments.
She paired it with wine-hued velvet Jimmy Choo heels and had faux crystal and peal floral Erdem earrings on.
The dress was inspired by the Queen's love of jazz and Erdem designed it around what Her Majesty might have worn to Harlem's Cotton Club.
Duchess of Cambridge returned to royal duties last week following the birth of Prince Louis in April.

Her first official event was a visit to wildlife garden in London last week and yesterday she attended the first Global Ministerial Mental Health Summit with Prince William.
Kate was revealed as the first Royal Patron of the museum in March.
Kensington Palace said her patronage furthers the Duchess of Cambridge's "interest in the visual arts, photography and design."
Kate toured the opening display at the Photography Centre entitled Collecting Photography: From Daguerreotype to Digital.
The display explores photography from the medium's invention in the 19th century to the present day.
© PA The Duchess of Cambridge arrives to open the new photography centre The new Photography Centre more than doubles the space currently devoted to it in the museum.
Prints, negatives, camera equipment, photographic publications and original documents will be displayed together to tell a broader story of international photography.
Paul McCartney's photographer daughter Mary McCartney has donated 14 of her own photos and the former Beatles frontman donated 63 works by her late wife, Linda.
Drawn from the V&A's collection of over 800,000 photographs, the display showcases contemporary photography alongside seminal prints by pioneers William Henry Fox Talbot, Julia Margaret Cameron and Roger Fenton.
During her tour of the exhibition, The Duchess met curators who have worked on the project, before unveiling a plaque to mark the official opening of the Centre.
A frequently changing selection of new acquisitions, a 'Light Wall' for displaying the most cutting-edge photographic imagery, and a 'Dark Tent' projection area complete the new space.
Kate is a keen photographer herself and some of her photos of her children have been released as official portraits.
In pictures: The Duchess of Cambridge's most stylish looks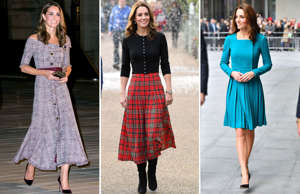 The art history graduate became a Patron of the National Portrait Gallery in 2012 and last year became an Honorary Member of the Royal Photographic Society.