Scented tattoos smelling of herbs and flowers are a real thing

The Independent
10/09/2017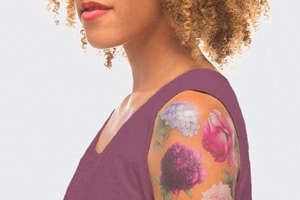 © Provided by Independent Print Limited Body art fans have elevated traditional tattoos to the next level by creating designs that look and smell like herbs and flowers.
If you came of age in the '90s then you'll probably remember those inelegant temporary tattoos that came wrapped around bubble-gum but it turns out that they've come a long, long way since then.
Now, you can pretty much transform into a walking, talking scratch and sniff human with designs that have an accompanying fragrance to match their design.
So, if your tatt looks like a pink peonie then it's going to smell like one too. The brainchild of New York-based company Tattly, the range of temporary tattoos are designed by French artist Vincent Jeannerot and include watercolour-style floral images of blue hydrangeas, roses, parsley and even sage.
Each tattoo is then matched with a complimentary scent made in collaboration with fragrance company, Agilex Fragrance to include notes of pink poppies, ylang-yland, dewy fuschia petals and poplar wood.
After application, the body art is said to last for two to three days but if flowers aren't your thing, never fear because you can also get your hands on a set of mouth-watering tattoos inspired by lollipops rings and other retro confectionary.