NZ wool sale volumes rise at dual auctions

NZ Newswire
10/08/2017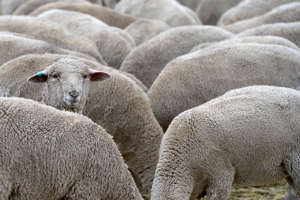 © Carla Gottgens/Bloomberg NZ wool prices dip at North Island auction A higher volume of wool was sold at auction in New Zealand this week after organisers skipped a week and held a double auction across both islands.
Some 80 per cent of the 15,054 wool bales offered at auctions in Napier and Christchurch were sold on Thursday, AgriHQ says.
That's ahead of the 72 per cent clearance rate for the 2016/17 season which ended June 30, and the average 77 per cent rate for the first six weeks of the current season.
"After a week break in wool sales, the market came back with some force with both reasonable volumes and a wider range of styles on offer," AgriHQ analyst Sam Laurenson said.
"Of the bales on offer the split was fairly equal between the North Island and South Island with a 52 per cent share and 48 per cent share respectively.
"It is difficult to tell whether this upward trend is likely to continue in the near term as stock piles are slowly released into the market."
New Zealand is coming out of its worst wool season since the global financial crisis as China, the largest buyer of the fibre, switched its preference to fine wool and away from strong wool that makes up the majority of the country's clip.
Industry estimates suggest between 150,000 and 200,000 bales may have been stockpiled by farmers, brokers, merchants and exporters, as sellers rejected weak prices below the cost of production.
At the latest auctions, North Island prices were up for all types available at the last North Island sale on July 20 and the better quality cuts improved by more than worse quality cuts, Laurenson said.
South Island prices were not as positive with all comparable styles down on the South Island sale two weeks ago.
Overall, the coarse crossbred wool indicator fell 7 cents to $2.73 a kilogram from the previous auction two weeks ago, and was up 4 cents from three weeks ago, according to AgriHQ.